No reviews, be the first!
Address:

Victory Gate, HM Naval Base, Portsmouth, England

Hours:

10am to 6pm (10am to 5:30pm Nov-March) Closed Christmas Eve and Day, Boxing Day

Admission:

Adult £28, Children £21
As the oldest base in the British Royal Navy (established in 1495) and once the largest industrial site in the world, the Portsmouth Historic Dockyard is part of Her Majesty's Naval Base and acts as headquarters to two-thirds of the Royal Navy's surface fleet. It therefore played a significant in not only Britain's military history (having taken part in the war against the Spanish Armada, the Battle of Trafalgar during the Napoleonic Wars and both World Wars) but also overall history; this is precisely why a large part of it became the Portsmouth Historic Dockyard and was transformed into museums.
There are eight different attractions open to the public: Mary Rose Museum (a Tudor carrack and Henry VIII's flagship), HMS Victory (from which Admiral Nelson commanded the victory at Trafalgar), HMS Warrior, HMS Alliance, National Museum Royal Navy, Explosion! Museum, Royal Marines Museum, Action Stations as well as harbor tours. Each of them narrates the bravery and heroism of both soldiers and serving personnel and offers a snippet of what was like on-board at the time, revealing anecdotes and important historical evidence on how Britain came to be the ruler of such a grand empire.
Portsmouth Historic Dockyard is still a fully functioning base even today, employing just over 17,000 people.
Practical Info
The Portsmouth Historic Dockyard is located in south-east England and is easily accessible by car via M27 or by train via London in just under 90 minutes. It is also reachable by ferry from France, the Isle of Wight and Spain.  Tickets to all of the Portsmouth Historic Dockyard attractions cost £21 per adult and £15.75 per child online, and £28 per adult and £21 per child at the gate.
A private and bespoke tour direct from your London accommodation with a personal Driver and Guide. Portsmouth Historic Dockyard contains a collection of some ... Read more
Location: London, United Kingdom
Duration: 8 to 10 hrs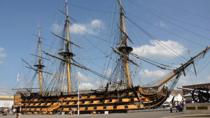 3 Reviews
Delve into Britain's rich maritime history on this 1-day Portsmouth Historic Dockyards and HMS 'Victory' tour from London. Follow a guide through the dockyards ... Read more
Location: London, United Kingdom
Duration: 1 day (approx.)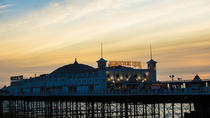 On this full-day tour of Brighton and Portsmouth, you will visit Portsmouth first for a stop for some sightseeing and lunch. You will be located near the ... Read more
Location: Oxford, United Kingdom
Duration: 1 day (approx.)