St. John may be in the shadow of its more popular sister islands, St. Croix and St. Thomas, but this tranquil islands rewards the outdoor enthusiasts with unspoiled beauty. For this tiny island holds hundreds of pristine coral gardens, coral-sand beaches, miles of winding trails that sidestep 18th-century sugar plantations and ancient petroglyphs, hidden coves, and stunning panoramic views from cliffside perches, overlooking crystal clear surf. Below are the top 5 ways to experience it all.

Scuba Diving & Snorkeling

Commune among the brilliantly-hued sea life beneath the clear, calm waters of nearly every beach on St. John. The best spots are Trunk Bay, Haulover Bay, Leinster Bay, and Waterlemon Cay. Dazzling coral formations just off the shore, where tropical fish, sea turtles, and rays dart in and around the ledges, walls, and nooks, attract both beginners or novices. For the more adventurous divers, sign up on a boat to take you to some of the hot spots further out, like Thatch Cay and Congo Cay.

Hiking

Trekking around St. John is truly an exhilarating and fun experience. A proliferation of more than 160 species of birds and 800 plant varietals make lush, natural showcase. At Virgin Islands National Park, you can explore some 20 different trails through a tropical forest, winding your way along cliffs for panoramic views. Other hikes include the Annaberg Historic Trail, a half-mile trek that passes the restored ruins of a 18th-century sugar plantation. Wander past mangrove swamps and cryptic petroglyps in the boulders and cliffs on the Leinster Bay Trail, or sample nature right from the beach on a leisurely walk at Cinnamon Bay.

Boating

Take to the water and explore other islands and cays near St. John. Most of the half- and full-day trips depart from Cruz Bay or Coral Bay. Wherever you depart, you can charter a sailboat, a catamaran, or an ocean runner for excursions to the British Virgin Islands, uninhabited islands, and remote cays. Most guided trips usually include lunch and at least one snorkeling stop.

Windsurfing

Mention windsurfing on St. John and the locals will point you north to Cinnamon Bay. Near shore, steady breezes yield relatively calm waters, making it easy for beginners and experts to zip around the bay. More advance windsurfers can go a little farther offshore, where strong, steady winds give some power but without the choppy waves. Watersports centers rent high-quality equipment for all levels and provide lessons for beginners.

Cinnamon Bay offers the best windsurfing on St. John. The winds are relatively calm near shore, which is good for beginners. As you go offshore, however, more advanced windsurfers will find strong, steady winds, but without the waves that are usually associated with forceful wind conditions.

Kayaking

Warm, blue, and generally calm waters make for perfect kayak conditions. Paddle around the shallow, crystal-clear bays, where you can see a variety of undersea life. You might even spot a sea turtle swimming beside you in the sea grass. You can rent single and double kayaks in Cruz Bay on the west end of the island and Coral Bay on the east end. You can paddle solo, with a friend, or with a guide.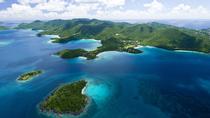 5 Reviews
Embark on an outdoor adventure amid the gorgeous natural surroundings of St. John and enjoy three fun activities in one tour! Paddle your kayak across Caneel ... Read more
Location: St. John, US Virgin Islands
Duration: 3 hours (approx.)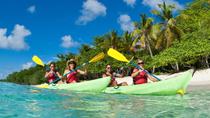 26 Reviews
Discover the beauty of St. John on a Kayak, Hike and Snorkel tour of Caneel Bay. Kayak in the turquoise waters of the Virgin Islands National Park, a UNESCO ... Read more
Location: St John, US Virgin Islands
Duration: 3 hours (approx.)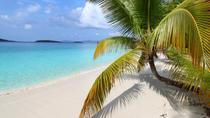 11 Reviews
Delight in the breathtaking beauty of St John with a full-day beach pass to Honeymoon Beach. You'll have access to a variety of fun – and relaxing ... Read more
Location: St. John, US Virgin Islands
Duration: 8 hours (approx.)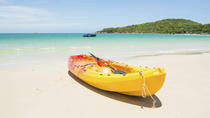 Explore the beauty of Saint John, one of the Virgin Islands in the Caribbean Sea, with a kayak rental. Rent a single or double 'sit-on-top' kayak by the day or ... Read more
Location: Cruz Bay, US Virgin Islands
Duration: Flexible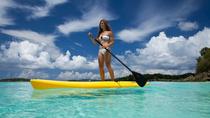 Explore the beauty of Saint John on an stand-up paddleboard (SUP), one of the most enjoyable water activities on the island. Stand-up paddleboards can be ... Read more
Location: Cruz Bay, US Virgin Islands
Duration: Flexible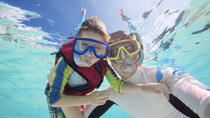 Explore the underwater world of Saint John with a mask and snorkel rental. Snorkeling is one of the most popular and fascinating water activities on the ... Read more
Location: Cruz Bay, US Virgin Islands
Duration: Flexible