St John RECOMMENDATIONS See all
Top Island Day Trips From St John
By Viator, August 2016
No reviews, be the first!
Take a break from lazing on the beach, leisurely seaside dinners, and hiking through the lush tropical beauty of St. John and take to the water for a day. Exotic, uninhabited cays, underwater reef teeming with marine life, the lively scene on St. Thomas, and even the British Virgin Islands are only a short ferry or charter boat ride away. All boats depart from Cruz Bay.

Charlotte Amalie, St. Thomas

Filled with 18th-century Danish architecture, pretty Charlotte Amalie offers an exciting blend of duty-free shops, waterfront pubs, and restaurants serving up spicy, Caribbean cuisine. The ferry departs from Cruz Bay every hour, docking at the Red Hook landing pier on the eastern tip of St. Thomas in 20 minutes. From here, you take a short bus trip to Charlotte Amalie,

Spend the day browsing the designer boutiques, pottery shops, and island trinkets in Tillett Gardens, Main Street, and Market Square. Watch thousands of butterflies flitter about at The Butterfly Farm, take a cable-car ride to the top of a 700-foot-peak for panoramic views of the harbor, or discover the history of St. Thomas at Fort Christian. In between, lunch or dinner at a harborside bistro, sampling some of the finest Caribbean fare in the Virgin Islands.

Day Sails to Remote Cays

The waters around St. John hold many islands and cays that make for a fun day trip. Charter or rent a sailboat, catamaran, or a kayak and head out onto the calm waters. For snorkelers and divers, try the tunnels of Thatch Cay, the colorful reef at Waterlemon Cay, the ledges at Congo Cay, and a the wreck of the General Rogers at Stephens Cay. If you just want to explore, hop on a guided tours or sail safari and co island-hopping. Most tours depart from either Cruz Bay or Coral Bay.

British Virgin Islands

All you need is your passport and sunscreen for a day trip to the British Virgin Islands. The 45-minute ferry ride takes you from Cruz Bay to Road Town through the Drake Channel, where you'll pass remote cays and islands along the way. Once in Road Town, you can take a tour of the island of Tortola, wander the West Indian-style buildings brimming with everything from Caribbean dolls to island perfumes, or hike to the top of the island's highest peak in Sage Mountain National Park. You can also charter half-day or full-day trips to Virgin Gorda to see giant boulders and sublime, sandy beaches at the Baths.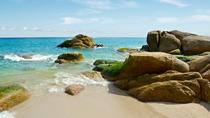 Visit Antigua's exotic sister island Barbuda for a day to remember forever! Explore the amazing Frigate Bird Sanctuary located on the island's northwestern ... Read more
Location: St Johns, Antigua
Duration: 7 hours 30 minutes (approx.)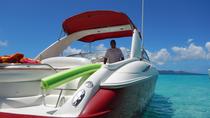 Explore the beauty of the Virgin Islands on your own private 32-foot boat. The ship's captain will take you anywhere you want to go, so whether your perfect ... Read more
Location: St Thomas, US Virgin Islands
Duration: 8 hours (approx.)