St. Kitts is a must for travelers interested in Caribbean history, culture, and natural beauty. Home to Basseterre, the capital city of the Federation of Saint Kitts and Nevis in the West Indies, the island has something to offer cultivated travelers interested in colonial heritage sites and sun-worshiping pleasure seekers alike. Originally claimed for the Spanish by Christopher Columbus in 1493, the region experienced a rich colonial history, alternately occupied and administrated by the French and British governments. Since attaining independence, St. Kitts has relied almost entirely on tourism, and it's easy to see why. The beautiful beaches, culturally rich cities and plantations, and the warm, friendly local population all make the island a rewarding destination.
Day 1: Basseterre
The capital Basseterre is filled with remarkably well-maintained examples of colonial architecture. The city is dived into two main areas, The Circus, the main tourist area, and Independence Square, the center of cultural life on St. Kitts and home to the courthouse and most of the older buildings. An excellent base of operations for explorations throughout the island, a full day ought to be set aside solely for the exploration of Basseterre.

Day 2: Brimstone Hill Fortress National Park and St. Kitts Scenic Railway
Begin the day at the pier at Port Zante in Basseterre, where travelers board buses that transport them to the double-decked cars of the St. Kitts Scenic Railway. Easily the best way to see the island, this line, the last functioning railroad in the region, allows travelers to choose between the lower level "parlor" cars, complete with air-conditioning, cocktails, and luxury, or the 360-degree views to be had on the open-air observation deck. Once you've concluded the trip, pause for refreshments at Independence Square before wrapping up the day by taking in the sunset at Brimstone Hill Fortress National Park, one of the best-preserved examples of military fortifications in the region, dating from the 17th century.

Day 3: Old Road Town and Wingfield Estate
Just to the south of the town of Middle Island, Old Road Town is the oldest settlement on the island, and despite being dwarfed in size by surrounding towns, possesses palpable local charm and the delicious island cuisine at Sprat Net. Before leaving Old Road, be sure to pay a visit to Wingfield Estate, recipient of the first land grant given by the King of England in the entire English-speaking West Indies.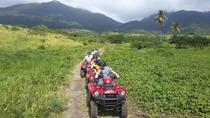 12 Reviews
Revel in the fun of an adrenaline-pumping tour by all-terrain vehicle (ATV) through the lush countryside of St Kitts. Your expert guide shows you breathtaking ... Read more
Location: Basseterre, St Kitts
Duration: 3 hours (approx.)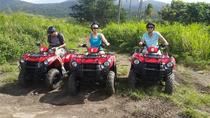 5 Reviews
Hop onto your own all-terrain vehicle (ATV) for a thrilling guided tour of the emerald green countryside of St Kitts. Zip over hills, roar past volcanic ... Read more
Location: Basseterre, St Kitts
Duration: Varies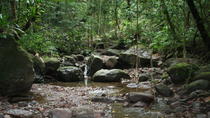 2 Reviews
Enjoy the natural beauty of St. Kitts with a 3.5-hour guided walking tour through the rain forest. You'll be amazed at the tropical flora and fauna St. Kitts ... Read more
Location: Basseterre, St Kitts
Duration: 3 hours 30 minutes (approx.)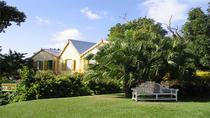 21 Reviews
No visit to St. Kitts is complete without a tour of this beautiful island. You'll gain first-hand insights into the history and countryside, stop for shopping ... Read more
Location: Basseterre, St Kitts
Duration: 3 hours 30 minutes (approx.)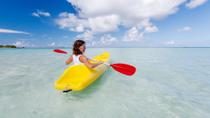 2 Reviews
Take to the Caribbean water and experience the beauty of St. Kitts as you kayak and snorkel in the crystal-clear waters. Enjoy scenic coastal views of the ... Read more
Location: Basseterre, St Kitts
Duration: 3 hours (approx.)