174 Reviews
Address:

Sadovaya St., 7 (Садовая ул., 7), St. Petersberg 196601‎, Russia

Hours:

Park open daily. Palace closed Tuesdays and last Monday of the month
Catherine Palace (Екатеринский дворец) is one of Russia's former imperial palaces and summer residence to its tsar's built on the orders of Catherine I. Now a museum, the baroque style palace has a neoclassical interior that exemplifies Russian wealth and extravagance.
The palace is best known for the grand suit Golden Enfilade (анфилад), which was designed by Bartolomeo Rastrelli, containing the ballroom known as the Grand Hall or Hall of Lights, and Art Galleries (Большому залу и Картинной галерее); with an immaculate ceiling painting, and sprawls out with distinctively decorated smaller rooms.
Outside the palace is the divine Catherine Park (Екатеринский парк), comprised of 2 parts including the old garden and English Park (Английского парка).
Designed by master Dutch gardeners Jan Roosen and Johan Vocht during the 18th century, the garden contains various elements including the Vangaza stream, which flows down to the Upper and Mill ponds. The pond also contains 2 bathhouses that were added in the 1770's and sports an impressive 12 weirs.
Practical Info
The mammoth palace stands at an astounding 325 meters (1,000 feet) long, and is located only about 12 miles or 25 km from St. Petersberg, making it a popular and convenient attraction for the hundreds of thousands of visitors that come every year. Although lacking in city transportation, there is a nearby rail station, only a 5-minute ride from the city that brings you within walking distance of the palace and park. Many nearby hotels also offer guided tours of the palace, so book in advance.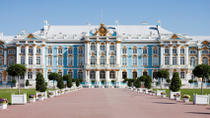 123 Reviews
Visit the magnificent summer residence of the Russian Tsars. A comfortable chauffeured drive will take you to the town of Pushkin (Tsarskoye Selo), where you ... Read more
Location: St. Petersburg, Russian Federation
Duration: 4-hour Pushkin tour
5-hour Pushkin and Pavlovsk tour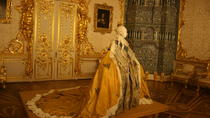 2 Reviews
This private tour allows you to visit the legendary Catherine Palace with the Amber room and see some of the most beautiful metro stations afterwards. ... Read more
Location: Saint Petersburg, Russian Federation
Duration: 1 day (approx.)
Enjoy a 5-hour tour from St. Petersburg to the town of Pushkin (formerly Tsarskoye Selo), which lies just outside of St. Petersburg and has a marvelous ... Read more
Location: Saint Petersburg, Russian Federation
Duration: 5 hours (approx.)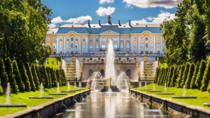 Imperial Residences tour is specially designed for customers who have limited time in Saint Petersburg and need to maximise their time there. This is your ... Read more
Location: Saint Petersburg, Russian Federation
Duration: 7 hours (approx.)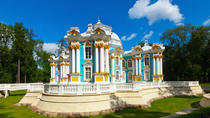 A private excursion with an English speaking guide to Tsarskoye Selo, an outstanding example of world architecture and landscape art.
Location: Saint Petersburg, Russian Federation
Duration: 5 hours (approx.)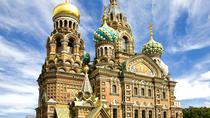 This comprehensive, one day introductory tour is ideal for guests who wish to make the most of their one day visit to the magnificent city of St. Petersburg. ... Read more
Location: Saint Petersburg, Russian Federation
Duration: 12 hours (approx.)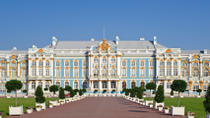 7 Reviews
While in port in St Petersburg, visit the magnificent summer residences of the Russian emperors on a full-day shore excursion with a small group. Discover ... Read more
Location: St. Petersburg, Russian Federation
Duration: 8 hours (approx.)
Take part in a 10-hour shore excursion tour of the fantastic city of St. Petersburg. On this full-day private tour, you can see and do what you want–it's fully ... Read more
Location: Saint Petersburg, Russian Federation
Duration: 10 hours (approx.)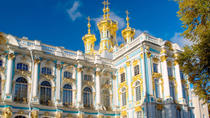 15 Reviews
Discover Russia's Imperial extravagance on a day trip to the town of Pushkin, led by a private guide! After leaving St Petersburg, explore Pushkin on foot and ... Read more
Location: St. Petersburg, Russian Federation
Duration: 6 hours (approx.)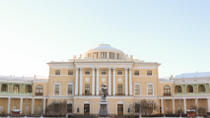 15 Reviews
Discover two of Russia's greatest imperial residences, Catherine Palace and Pavlovsk Palace, on this 6-hour tour from St Petersburg. Traveling by minivan ... Read more
Location: St. Petersburg, Russian Federation
Duration: 6 hours (approx.)