168 Reviews
Address:

Petrgof (Петергоф), Peterhof, Russia

Hours:

Garden open daily.
Petrhof (Петерго́ф) or "Peter's yard" is considered the fountain capital of the world and is in the eyes of any visitor, an absolute gem of environs in St. Petersburg. Consisting of 64 fountains, 255 sculptures not to mention the Grand Palace (Большой дворец), and other historic palaces Monplaisir (Монплезир) and Marly (Дворец Марли), as well as the pavilion known as Hermitage (Дворец Марли).

In the upper garden resides the Fountain of Neptune (Фонтан Нептун), cast in lead with a majestic portrait of Neptune on a pedestal as well as horses and dolphins.

The lower park spans over 102 ha contains the famous monplaisir Palace located in the eastern part of the park, and was considered the favorite of Peter I. The lower park also houses Catherine's body (Екатерининский корпус), built by Rastrelli and containing 2 buildings connected by a gallery.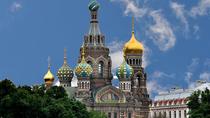 5 Reviews
Explore the best of magnificent St. Petersburg in a small group, allowing for a more personalized and intimate experience with premium service including ... Read more
Location: Saint Petersburg, Russian Federation
Duration: 1 day 2 hours (approx.)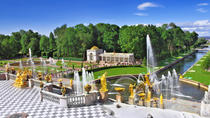 62 Reviews
Peterhof is perhaps St Petersburg's most famous and spectacular Imperial estate. The Grand Palace, filled with fascinating and elaborate interiors, sits on top ... Read more
Location: St. Petersburg, Russian Federation
Duration: 5 hours (approx.)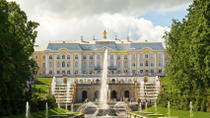 28 Reviews
Get ahead of the crowds to explore the magnificent Peterhof Grand Palace and Gardens on this 5-hour tour from St Petersburg. Travel to Peterhof, sometimes ... Read more
Location: St. Petersburg, Russian Federation
Duration: 5 hours (approx.)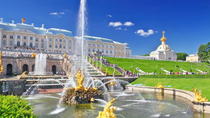 Take part in a 10-hour shore excursion tour of the fantastic city of St. Petersburg. On this full-day private tour, you can see and do what you want–it's fully ... Read more
Location: Saint Petersburg, Russian Federation
Duration: 10 hours (approx.)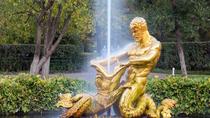 Experience a private guided 5-hour tour to the Peterhof Palace in a comfortable private car. Be greeted in your centrally located hotel in St. Petersburg and ... Read more
Location: St Petersburg, Russian Federation
Duration: 5 hours (approx.)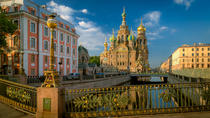 8 Reviews
This moderate 2 day visa-free shore excursion of St. Petersburg covers all the highlight of this City & its surroundings. You will see and visit the most ... Read more
Location: Saint Petersburg, Russian Federation
Duration: 19 hours (approx.)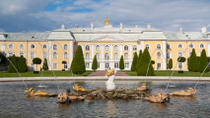 35 Reviews
Ride a hydrofoil to the Grand Palace and gardens of Peterhof, St Petersburg's amazing imperial estate and a UNESCO World Heritage Site. Enjoy a cruise down the ... Read more
Location: St. Petersburg, Russian Federation
Duration: 4 hours (approx.)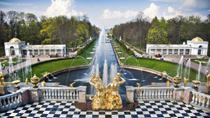 4 Reviews
Explore Peterhof, St Petersburg's breathtaking Tsarist palace, on a 6-hour walking tour with a private guide! Often considered Russia's answer to the Palace of ... Read more
Location: St. Petersburg, Russian Federation
Duration: 6 hours (approx.)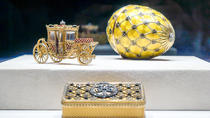 The best of the best that can be seen on a one day port call of cruise ships! Both city center must-sees including the Hermitage and Winter Palace, Church on ... Read more
Location: St Petersburg, Russian Federation
Duration: 9 hours (approx.)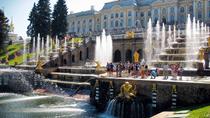 1 Review
Peterhof is perhaps St Petersburg's most famous and spectacular Imperial estate. The Grand Palace, filled with fascinating and elaborate interiors, sits on top ... Read more
Location: Saint Petersburg, Russian Federation
Duration: 5 hours (approx.)