There is no better way to learn about Russian culture and history than to learn about its food. Heavy on meat, potatoes and bread, Russian cuisine is cozy comfort food that is tasty and filling. While you could spend your time in Russia sampling popular dishes at local restaurants, why not learn how to make some of these specialties yourself? A private Russian cooking class in St. Petersburg will give you the opportunity to do just that so you can continue to enjoy your Russian favorites once you are back home.

Every class may be a little different, but no matter what you are sure to walk away knowing how to make a few Russian specialties. You might learn how to make blini - thin pancakes that are often topped with butter, sour cream or fruit preserves – as your host explains why they are traditionally prepared to celebrate the end of winter. Or, learn about the history of the Olivier Salad as you slice carrots and chop potatoes to go along with the mix of mayonnaise, pickles, peas and ham. Often called the Russian Salad outside of Russia, this is traditionally served as part of New Year's celebrations.

While you may have enjoyed Beef Stroganoff at home, it is likely a far cry from the traditional Russian dish, which has been prepared since the 19th century. Learn how to make the real deal, consisting of lightly floured beef cubes with a sauce of mustard and bouillon and topped off with sour cream. And of course you will want to try your hand at preparing borsch – one of the best known Russian dishes despite actually hailing from Ukraine.

If you don't feel like stepping into the kitchen yourself, you can still get a great introduction to Russian cuisine and culture by checking out a traditional folklore show and Russian buffet dinner. You'll enjoy folk music and dancing from various regions of Russia and then sample a buffet that includes Russian meats and cheeses, caviar and Russian vodka.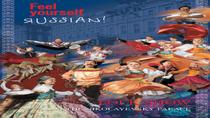 30 Reviews
The evening begins in the Nikolaevsky Palace restaurant where you will discover traditional Russian dance and music during an elegant reception.
Location: St. Petersburg, Russian Federation
Duration: 90 minutes (approx.)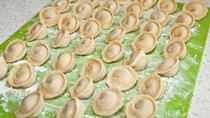 2 Reviews
What could be more fun after an exhausting tour day than to enjoy a hearty meal with a local Russian family? Get away from the hustle and bustle of the city ... Read more
Location: Saint Petersburg, Russian Federation
Duration: 4 hours (approx.)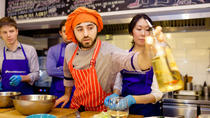 Want an unusual lunch or dinner during your tour? This is the option you have been looking for! Cook any 2 or 3 Authentic Russian Meals, enjoy your meal and ... Read more
Location: Saint Petersburg, Russian Federation
Duration: 4 hours (approx.)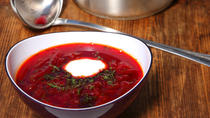 Learn how to cook Russian food fit for a tsar on a private 2-hour cooking class in St Petersburg. Simply book the class for a time that suits you and discover ... Read more
Location: St. Petersburg, Russian Federation
Duration: 2 hours (approx.)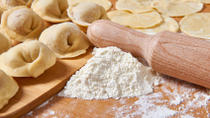 Come and discover the real taste of Russian cuisine. Learn Russian cooking methods from an experienced local chef during 3-hours Russian cooking class in ... Read more
Location: St Petersburg, Russian Federation
Duration: 3 hours (approx.)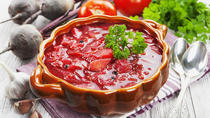 1 Review
Calling all food lovers! Learn how to cook Russian food fit for the tsars on a private 3-hour step-by-step cooking class in St Petersburg. Brush up your ... Read more
Location: St Petersburg, Russian Federation
Duration: 3 hours (approx.)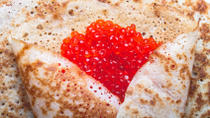 Get a true taste of Russia! Instead of dining out again, prepare and savor a home-cooked meal during your stay in Saint-Petersburg. Participate in the private ... Read more
Location: St Petersburg, Russian Federation
Duration: 3 hours (approx.)