One of the best times of year to visit St Petersburg is during the White Nights. Known as Belye Nochi in Russian, the White Nights last for about eighty nights from May through July while the city enjoys late sunsets and early sunrises, with twilight lasting throughout the night.  A variety of festivals, carnivals and concerts take place throughout the White Nights, but one of the most memorable ways to experience St Petersburg during a summer visit is by taking a White Nights Cruise at midnight.

Your White Nights cruise will take you along some of the city's smaller rivers and canals, past some of the most historic sites in the city, all brightly illuminated underneath the twilight skies. From the boat you'll see the tower of the Peter & Paul Cathedral, standing within the Peter & Paul Fortress, as well as the dome of St. Isaac's Cathedral, the largest Russian Orthodox cathedral in the city. You will pass by the regal Anchikov Palace, finished in 1754 and used by the Romanov family through the early 20th century. You will also catch a glimpse of the architecturally diverse Mikhailovksy Castle, originally built for Tsar Paul I and later turned over to the army's Engineering School.

The highlight of your White Nights cruise is the raising of the drawbridges over the Neva River, which begins around 1:30 a.m.  More than a dozen bridges are raised, but you should keep an eye out for a few in particular. The Blagoveshchensky Bridge was the first permanent bridge across the Neva, finished in 1850. Connecting Vasilievsky Island with the center of St. Petersburg, it was the longest bridge in Europe when it was completed. The Liteyny Bridge, finished in 1879, was the second bridge built across the river and the first to be equipped with electrical lights. It crosses the Neva at the spot where another crossing likely existed centuries ago, connecting the road from Novgorod with the road to Vyborg.

The Trinity Bridge was the third permanent bridge built across the river and takes its name from the Trinity Cathedral which used to stand at its northern end.  Finished in 1903 in time for the city's 200th anniversary, it is decorated in an art nouveau style, featuring artistic cast iron gratings and metallic multi-colored lamps. Last, but certainly not least, the Palace Bridge is one of the most iconic sights in St. Petersburg, connecting Palace Square with Vasilievsky Island.  Designed so as to not impede the view of the buildings on the island from the Palace Embankment, the bridge is probably one of the most photographed sites in the city.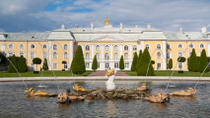 31 Reviews
Ride a hydrofoil to the Grand Palace and gardens of Peterhof, St Petersburg's amazing imperial estate and a UNESCO World Heritage Site. Enjoy a cruise ... Read more
Location: St. Petersburg, Russian Federation
Duration: 4 hours (approx.)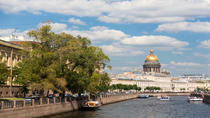 11 Reviews
Explore enchanting St Petersburg by boat on a 2-hour small-group sightseeing cruise along the Neva River. After a short walk down Nevsky Prospekt -- the ... Read more
Location: St. Petersburg, Russian Federation
Duration: 2 hours (approx.)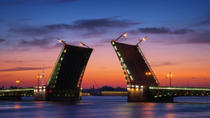 17 Reviews
Enjoy a midnight cruise around St Petersburg and see the city's drawbridges rise – an event that happens each night. As you glide around the elegant canals, ... Read more
Location: St. Petersburg, Russian Federation
Duration: 90 minutes (approx.)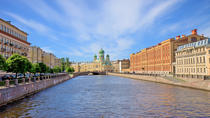 4 Reviews
While in port in St Petersburg, tour the city on a 6-hour shore excursion. Learn about some of the most prominent landmarks, including a visit to the ... Read more
Location: St. Petersburg, Russian Federation
Duration: 6 hours (approx.)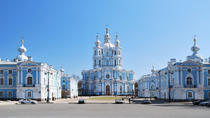 7 Reviews
While in port in St Petersburg, enjoy a full day of sightseeing on this shore excursion with a small group. Visit Peter and Paul Fortress, including the ... Read more
Location: St. Petersburg, Russian Federation
Duration: 9 hours (approx.)