Stockholm Cruise Port Tours
Stockholm is a popular port of call and a key turnaround point for many European cruises. As a result, this cultural capital—home to some two million people—is well equipped to handle (and entertain) travelers. Visitors can go back in time on a tour of the historic streets of Gamla Stan, lounge in well-kept green spaces or wander the interesting shops that line the bustling waterfront. And while Stockholm has a reputation for being a pricy port, there are still good options for getting around on a budget.

How to Get to Stockholm

Passengers docking in Frihamnen can walk to the ferry terminal from port, hail a taxi or hop aboard one of the nearby buses to reach more interesting parts of town. Those who arrive at Gamla Stan can easily access the city's electric trolleys or explore on foot.

One Day in Stockholm

Stockholm can be an expensive port. Budget-conscious travelers should invest in the Stockholm Card, which grants visitors admission to some of the most popular attractions in the city. (It even includes transportation on Stockholm's buses, trams, subways and ferries.)  Be sure to check out the island of Gamla Stan for a taste of old-world Stockholm and tour the nearby 600-room Royal Palace. Then hop on one of the city's local sightseeing boats for a tour of the some 30,000 islands that dot the coast of Sweden.

Adventurous visitors can embark on a rooftop tour that explores the old Parliament building from high above the ground. Travelers walk along narrow catwalks while strapped into safety harnesses and are even required to wear helmets.
Port Information
Cruise ships typically dock in one of two ports. Frihamnen, stationed in a boring industrial area without much to see, is reserved for larger boats. Gamla Stan, ripe with museums, a royal palace and other areas of interest, is where smaller ships tend to berth. Swedish is the national language, but English is widely spoken, too. Krona is the official currency with ATMs and foreign exchanges easily accessible. Taxis do not accept credit cards so be sure to travel with cash.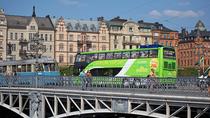 63 Reviews
While in port in Stockholm, see all the city's highlights on a hop-on hop-off shore excursion. With your 24-hour or 72-hour ticket explore by open-top, ... Read more
Location: Stockholm, Sweden
Duration: Varies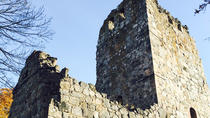 2 Reviews
During your time in port in Stockholm, seize the opportunity to uncover Sweden's fascinating Viking and medieval history with this engrossing full-day shore ... Read more
Location: Stockholm, Sweden
Duration: 8 hours (approx.)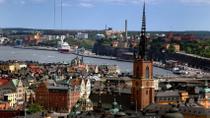 31 Reviews
While you're in port, get a comprehensive sightseeing experience of Stockholm on the Stockholm Grand Tour. Combining a panoramic coach tour and a boat cruise ... Read more
Location: Stockholm, Sweden
Duration: 3 hours 30 minutes (approx.)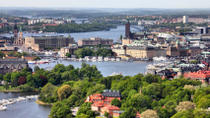 7 Reviews
While you're in port, see Stockholm in a nutshell on this 2.5-hour sightseeing tour. You'll get a comprehensive overview of the entire city, first from the ... Read more
Location: Stockholm, Sweden
Duration: 2 hours 30 minutes (approx.)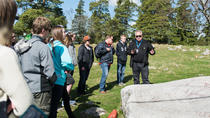 3 Reviews
While your ship is moored in Stockholm, uncover Sweden's fascinating Viking and medieval past on this half-day excursion! Enjoy the undivided attention of your ... Read more
Location: Stockholm, Sweden
Duration: 5 hours (approx.)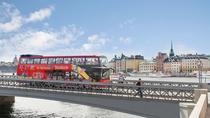 7 Reviews
When your cruise ship docks in Stockholm see the best of the capital of Sweden, on this City Sightseeing hop-on hop-off tour! As you hop on and off the ... Read more
Location: Stockholm, Sweden
Duration: 24 to 72 hrs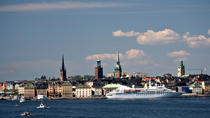 2 Reviews
Short on time in Stockholm but want to see it all while you're in port? This is the shore excursion for you. In just 75 minutes, you'll get a panoramic ... Read more
Location: Stockholm, Sweden
Duration: 75 minutes (approx.)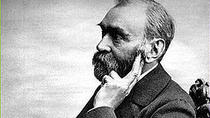 Learn about Stockholm's amazing history and get as close as is possible to the famous Alfred Nobel while your cruise ship is in port in Stockholm. See where ... Read more
Location: Stockholm, Sweden
Duration: 2 hours 30 minutes (approx.)