A Christmas tradition to be envied (and indeed, visited) is the vibrant profusion of Christmas markets that spring up all over Switzerland during the holiday season. They range in size and scope from small, outdoor markets that are cobbled together in small-town village squares to the spectacle of the more than 100 indoor market stalls selling handcrafted trinkets, delicious St. Nicholas pastries, gourmet chocolates, butter cookies and mulled Glühwein wine that assemble for a full month in Zurich's main train station (Hauptbahnhof).
 
Some of the other great Christmas markets in the country include:
 
Montreux Noël
Visitors of all ages will enjoy this holiday extravaganza situated on the shores of Lake Geneva. Visit Santa (who arrives direct from Lapland), as well as an authentic Christmas Village in Caux, and stroll through a medieval market where you can attend a story festival within the walls of the legendary Château de Chillon.
 
Bern Christmas Markets
Held, as usual, at the Waisenhausplatz from December 3rd through December 29 and at the Münsterplatz from December 3rd through December 24, the Christmas markets in Bern are devoted mainly to arts and crafts, as well as traditional market fare. Candles, gifts, and handmade souvenirs are all on hand, as well as restorative Glühwein wine and snacks.  
 
Basel Christmas Market
Not to be outdone, the Christmas market in Basel is one of the most exciting markets in Europe, and is situated cozily along the banks of the Rhine. The well-preserved Old Town is radiant in the glow of the seasonal light and cheer, and the shops and the facades of many buildings glitter in the crisp winter evenings. All the usual items are for sale, but the ambiance is truly spectacular.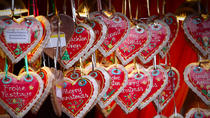 7 Reviews
Immerse yourself in the scenery of Château de Chillon and Montreux on this full-day tour from Geneva. Head first to Chaplin's World to hear about artist ... Read more
Location: Geneva, Switzerland
Duration: 8 hours 30 minutes (approx.)