For a complete change of pace from Australia's largest city, head out on a day trip which will take you south through small towns, farmland and rugged forests before arriving in the nation's capital: Canberra.

Few cities live as harmoniously with their natural surrounds as Canberra. Lawmakers, public servants, diplomats and the rest of the city's 350,000-odd residents enjoy an enviable standard of living, going about their business amid the scent of eucalyptus trees and the laugh of the kookaburra. This handsome, likeable city was conceived in the early 20th century, and you can see the result of careful planning in the wide roads, serene waterways and stretches of undisturbed bushland.

Head up to the lookout on Mount Ainslie and you'll see the city laid before you like a map. Running through the city like a backbone is the "parliamentary axis", where you'll find Parliament House, the highlight of any visit to Canberra. This modern building resembles an enormous spaceship half-submerged in a hillside. It's the focal point of one of the world's most mature and stable democracies, but its House of Representatives is known for its vigorous debates.

Many of the country's great institutions grace the shores of picturesque Lake Burley Griffin, including the National Library, High Court, and the world-class art collection of the National Gallery. The audacious, modern exterior of the National Museum houses exhibits which detail Australia's history from the first indigenous peoples to today's prosperous, multicultural society. And in the lake itself, the Captain James Cook Memorial shoots a huge plume of water into the southern sky to celebrate the man who discovered the continent.

Other attractions include The Lodge (official residence of the Prime Minister), numerous embassies as well as the Australian War Memorial, which commemorates the enormous sacrifice made by Australian armed forces in world conflicts.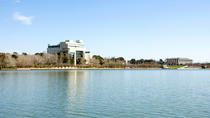 94 Reviews
Explore beautiful Canberra, Australia's capital city, on a full-day trip from Sydney. Visit famous sights including the Australian War Memorial, Parliament ... Read more
Location: Sydney, Australia
Duration: 13 hours (approx.)
46 Reviews
Enjoy this comprehensive day tour of Canberra, Australian's capital city. Travel south by coach from Sydney through the Goulburn region, one of Australia's ... Read more
Location: Sydney, Australia
Duration: 13 hours (approx.)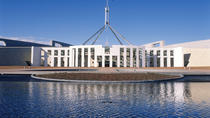 1 Review
A vacation to Australia is not complete without visiting Canberra, the capital of Australia. Located about 180 miles (290 km) from Sydney, this Canberra day ... Read more
Location: Sydney, Australia
Duration: 13 hours (approx.)