Sydney is Australia's most iconic city. With well-known landmarks such as the Opera House, Harbour Bridge, the Rocks, Taronga Zoo and the golden beaches, it's easy to follow in the footsteps of previous visitors to the city. For a unique view of Sydney, try something a little different: take a helicopter tour.
Offering the most amazing vantage point in the entire city,
helicopter tours in Sydney
showcase the city from above and are an experience well worth having. There are plenty of tours on offer, with most lasting around 20 minutes and all offering informative commentary on the areas flown over. A harbour tour will pick you up from your hotel and give you views of iconic sites including Manly beach or Maroubra and Bondi and classics like the Sydney Opera House, Sydney Harbour Bridge and the city skyline. A helicopter tour of Sydney's beaches presents a coastal emphasis.
For a truly magical experience, take a
twilight helicopter tour
of Sydney. Flying over Coogee, Bondi and Manly beaches, through the North and South Headlands and into Sydney Harbour as night falls and the city lights up, it's an unparalleled way to experience Sydney. Alternatively, take a private helicopter tour that includes lunch at Peter Doyle @ the Quay on the edge of Sydney Harbour.
If seeing the city from above isn't your thing, there are a few helicopter tours in Sydney that take visitors outside the CBD. Leaving from Sydney airport, fly north to the Hunter Valley to explore the renowned wine region by helicopter. A private wine tasting and three-course gourmet lunch break up gorgeous views of Palm Beach, Pittwater and the Hawkesbury River, and of course the Hunter Valley itself.
A scenic helicopter flight to the Blue Mountains begins over Sydney Harbour before heading west into the mountains. Take in Katoomba and the Three Sisters before landing at the aptly named Scenic World for lunch and exploration on the Scenic Railway and boardwalks before heading back into the city.
Contributed by Lindsey Hopper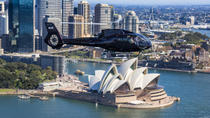 158 Reviews
Fly over beautiful Sydney Harbour by helicopter for a bird's-eye view of Sydney. Your expert pilot will provide informative commentary on all the sites as you ... Read more
Location: Sydney, Australia
Duration: 2 hours (approx.)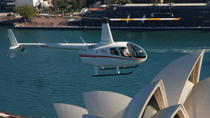 17 Reviews
Take to the skies for a once-in-a-lifetime experience. You and your special someone will fly over spectacular Sydney Harbour by private helicopter, followed by ... Read more
Location: Sydney, Australia
Duration: 2 hours (approx.)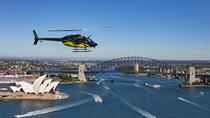 18 Reviews
Fly above Sydney and its famous landmarks on this great-value 20-minute Sydney Helicopter Tour! A Super Saver scenic helicopter flight takes you into the skies ... Read more
Location: Sydney, Australia
Duration: 18 - 20 minutes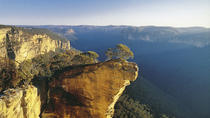 16 Reviews
Explore the UNESCO World Heritage-listed Blue Mountains on a scenic helicopter tour from Sydney. Take in spectacular aerial views of the Sydney Opera House and ... Read more
Location: Sydney, Australia
Duration: 5 hours (approx.)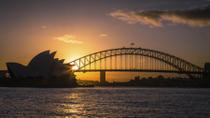 15 Reviews
Let yourself be seduced by the breathtaking views over Sydney on this helicopter twilight flight. It is just the ticket to starting off a magical evening in ... Read more
Location: Sydney, Australia
Duration: 3 hours (approx.)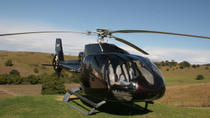 12 Reviews
Indulge in a day of luxury and treat someone special to an amazing wining and dining experience. Fly from Sydney to the famed Hunter Valley by helicopter, with ... Read more
Location: Sydney, Australia
Duration: 6 hours (approx.)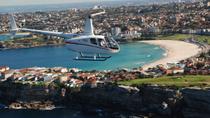 10 Reviews
Take a 30-minute tour of Sydney's beaches by helicopter - an exhilarating way to experience this exhilarating city! You'll see Sydney from the best vantage ... Read more
Location: Sydney, Australia
Duration: 2 hours 30 minutes (approx.)