New Year's Eve in Sydney is always a spectacle to remember. Unlike some other holidays which can be overlooked, avoided, or under-appreciated, the Australians consistently ring-in the New Year with verve. Part of this is due to January ushering-in the annual Sydney Festival, in which the city comes alive with parties and celebrations on seemingly every corner-block. Many locals see it as the beginning of a month long celebration, and so it is not uncommon to enjoy New Year's Eve in no-holds barred celebrations high atop glittering skyscrapers or coasting through the harbor on a scenic cruise. Most of these parties revolve, in some way or another, around the annual firework extravaganza and parade of lights held each year down in the beautiful Sydney Harbour.

Without a doubt, most New Year's Eve celebrations either begin or end with the Harbour, but a great time can still be had from a distance. Sydney Harbour was selected to host the firework display, as a matter of fact, for this very reason. Approximately twenty different parks and beaches are visited routinely and each have their share of parking spaces, nearby restaurants, restrooms, and general appeal.

For the Adults
In order to get as close as possible to the dazzling shower of sparks and percussive night-time display, consider making a trip to the Sydney Harbour itself. Here, just about every restaurant and cruise ship will be offering a New Year's Eve special, and the best do fill up well in advance.

Some highlights include a special New Year's Eve Opera Gala at the Sydney Opera House with a specially timed interval so that you can enjoy the fireworks, a Sydney Harbour New Year's Eve Tall Ship Dinner Cruise where you'll have prime viewing of the fireworks after a wonderful BBQ meal or even a Sydney Harbour New Year's Eve Cocktail Cruise with drinks as the fireworks go off!

For the Family
New Year's Eve at Sydney's Bradleys Head is the perfect way to ring in the new year with your loved ones. Spend a wonderful evening with your family in an alcohol-free, family-friendly setting with front-row views of the Sydney Harbour Bridge fireworks at 9pm and again at midnight, with live entertainment that changes every year.

Another great place to take the kids is the Sydney Tower Eye. Here, you have access to an 360 degree views of not only the harbor festivities, but all of downtown Sydney as well. Sip on a drink and watch the beautiful 9pm fireworks from the observation deck at 820 feet (250 meters)!

No matter if you choose to take a harbor cruise, or stay ashore, you'll remember ringing in the New Year with a bang!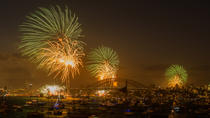 Be part of the action this New Year's Eve on a romantic tall ship dinner cruise on Sydney Harbour. While cruising the harbor in a historic tall ship, join in ... Read more
Location: Sydney, Australia
Duration: 5 hours 30 minutes (approx.)