The Blue Mountains are just a hop, skip and a jump from the bustling city of Sydney - and yet they feel a world away. Quaint little villages, gorgeous national parks and the change in atmosphere that comes with being at a slightly different altitude are a world away from one of Australia's most visited cities.

Katoomba, Leura, Springwood, Wentworth Falls, Blackheath – the names sound like something out of a children's book. Yet these places are quite real, and some of the most popular towns in the Blue Mountains. Katoomba is home to the Three Sisters and Scenic World (an attraction that capitalizes on the amazing views the mountains offer), Leura is the most picturesque village in the mountains, Springwood is the second largest town and the starting point for several amazing bushwalks.

Wentworth Falls has the most beautiful bushwalks of all the mountains' towns, including the waterfall from which it gets its name. Blackheath is the colonial village of the Blue Mountains, and hosts the Rhododendron Festival in November next year. Other places in the Blue Mountains we haven't mentioned include Medlow Bath and the stunning Jenolan Caves.

The Blue Mountains are a World Heritage Listed area and one of the most popular tourist attractions in NSW outside of Sydney itself. Listed for its biodiversity and cultural significance, the Blue Mountains are a beautiful place to take a day hike. The land traditionally belonged to six Aboriginal language groups, and it is their myths and legends that inform many of the landmarks in the region, such as the Three Sisters story and the name of Jenolan Caves.

When visiting the Blue Mountains, there are a few things you shouldn't miss. The Blue Mountains Cultural Centre in Katoomba celebrates the environment, history and culture of the region. Continue heading away from the Great Western Highway to get to Echo Point – the lookout here overlooks the Three Sisters and the Kanangra-Boyd Wilderness. Scenic World is also worth a look-in. Ride down the incline railway or take a cable-car ride across the Jamison Valley.

The Blue Mountains – and the Australian bush that covers them – is best discovered by bushwalking. The hike toe the Valley of the Waters on the National Pass Trail in Wentworth Falls is a firm favourite and takes around 3-4 to complete. The most accessible walk would have to be the Platform Walk at Scenic World in Katoomba. Leura Cascades is another short walk with stunning scenery, and the Waterfall Walk in Mt Wilson is a 1 hour trek past mossy grottoes.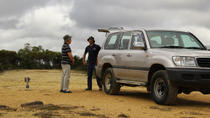 3 Reviews
Get incredible access to the Blue Mountains on this full day tour by four-wheel drive! You'll travel with a knowledgeable local guide deep into the heart of ... Read more
Location: Katoomba, Australia
Duration: 7 hours (approx.)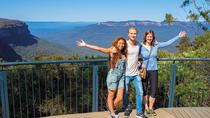 583 Reviews
Experience the beauty and tranquility of the Blue Mountains on a full-day, small-group tour from Sydney. See highlights including the Three Sisters as you soar ... Read more
Location: Sydney, Australia
Duration: 10 hours (approx.)
177 Reviews
Enjoy a trip through the scenic Blue Mountains and admire the otherworldly beauty of the Jenolan Caves on a day tour from Sydney. Pass through the mountain ... Read more
Location: Sydney, Australia
Duration: 10 hours (approx.)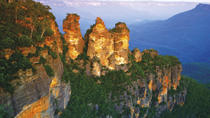 999 Reviews
Discover the beautiful wilderness on Sydney's doorstep on a day trip to the World Heritage-listed Blue Mountains. Enjoy spectacular views over the Megalong ... Read more
Location: Sydney, Australia
Duration: 9 hours 30 minutes (approx.)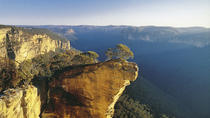 16 Reviews
Explore the UNESCO World Heritage-listed Blue Mountains on a scenic helicopter tour from Sydney. Take in spectacular aerial views of the Sydney Opera House and ... Read more
Location: Sydney, Australia
Duration: 5 hours (approx.)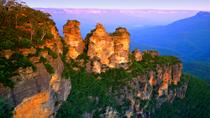 3 Reviews
Choose the luxury option and take a private tour of the Blue Mountains World Heritage region from Sydney. You'll have an up-close encounter with ... Read more
Location: Sydney, Australia
Duration: 9 hours (approx.)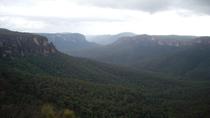 4 Reviews
Leave the hustle and bustle of the city for the beautiful and scenic Blue Mountains. Visit Featherdale Wildlife Park and hand-feed kangaroos and emus, see ... Read more
Location: Sydney, Australia
Duration: 2 days / 1 night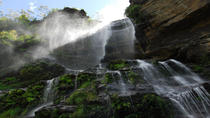 49 Reviews
Escape the hustle and bustle of Sydney on a small-group hike in the Blue Mountains. Enjoy the stunning natural beauty of this World Heritage-listed parkland ... Read more
Location: Sydney, Australia
Duration: 6 hours (approx.)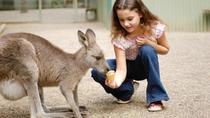 1 Review
Leave busy Sydney behind for wilderness and wine on a 3-day tour to the Blue Mountains National Park and Hunter Valley wine region. Meet Australian animals at ... Read more
Location: Sydney, Australia
Duration: 3 days (approx.)