Only Show: Flyboarding | Jet Boats & Speed Boats | Jetpacks | Kayaking & Canoeing | Other Water Sports | Scuba Diving | Snorkeling | Stand Up Paddleboarding | Surfing & Windsurfing
Looking for a new adventure? Try Scuba Diving! It's your opportunity to discover the magical world of colourful fish and living reefs in your very own ...
Location: Sydney, Australia
Duration: 3 hours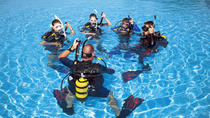 Scuba diving is a unique experience that allows us to explore places that only a handful of people have laid eyes on. 70% of our world is covered by the ...
Location: Sydney, Australia
Duration: 2 days