Sydney attractions
More things to do in the area
Showing 11-20 of 99 attractions in Sydney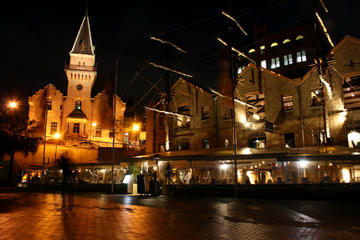 With its Georgian sandstone buildings, narrow alleyways, historic pubs, and regenerated warehouses, The Rocks is one of Sydney's oldest and most popular precincts. Set back from Circular Quay, it was one of the earliest parts of Sydney to be settled. Formerly a raffish area, today this city-center quarter has been gentrified and given a good polish. You'll find Sydney's oldest pubs here, a vibrant weekend street market specializing in handicrafts, historic Cadmans Cottage, the Sydney Observatory, Museum of Contemporary Art, and a swag of shops and boutiques. Some of Sydney's best restaurants are also here, including Sailors Thai, Altitude, Neil Perry's Rockpool, and Doyles at the Quay. The best way to get a feel for The Rocks is to just follow your nose down 200-year-old cobbled laneways like Playfair St, Mill Lane, and Nurses Walk.
More
63 Tours and Activities
---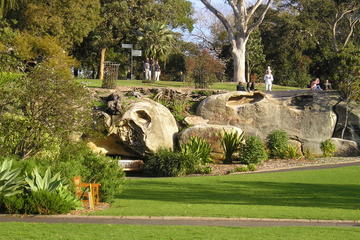 Historic, picturesque, and relaxing, the Sydney Royal Botanic Gardens cover 74 acres (30 hectares) running along the harbor from the Sydney Opera House to Woolloomooloo. A true inner-city oasis, the gardens combine exotic plantings from Europe, tropical rainforest, woodland, flowers, grasses, the Indigenous First Encounters garden, and rare horticultural exhibits. A program of events includes activities, workshops, courses and lectures, plus there are entertaining guided walks throughout the year. The gardens are laced with leafy walkways and harbor lookouts, and they also boast a fernery, camellia garden, palm grove, and herb garden. For a walk through history, the Mrs Macquaries Bushland Walk traces a path along the coast, re-creating the landscape as it appeared when the early settlers arrived in Sydney in the early 19th century. Don't forget to stop off at Mrs Macquarie's Chair, a bench carved out of sandstone, to get amazing views of the Sydney Harbour.
More
48 Tours and Activities
---
This unique landmark—a massive rock fashioned into a cozy bench—was carved from sandstone in the early 1800s by Gov. Lachlan Macquarie for his wife Elizabeth. As the story goes, when the weather was warm and the sun high, Mrs. Macquarie loved to relax at the point of this scenic peninsula and stare out over the ocean. Today, travelers enjoy a leisurely walk to Mrs. Macquarie's Chair from the iconic Opera House or wander over to this historic attraction after a visit to the nearby Royal Botanic Garden. In a bustling city that's alive with energy, the stone bench offers visitors a perfect place to unwind, relax and take in the some of the best views of Sydney Harbour.
More
76 Tours and Activities
---
What is now a popular destination for history buffs once served as a defense facility that kept watch over the bay. Fort Denison Island, located northeast of the Royal Botanic Gardens, was where some of the most gruesome acts against convicted felons took place. Today, travelers can wander the grounds of this recently restored island and see the gibbet where criminals were hanged. Explore the fort built to protect the island from invaders and climb the historic Martello Tower, the only one of its kind in the country. The island is home to an informative museum, as well as a number of landmarks that illustrate its dark and violent past.
More
17 Tours and Activities
---
Now named for its shape and the image it brings to mind, Shark Island was once referred to as "Boambilly" by Australia's aboriginal people. The island was previously the site of an animal quarantine and naval depot, but today travelers flock to its shores for recreation. Settle in under shady trees and enjoy one of the island's many well-kept picnic sites, or explore the rocky passes and handmade grottos along Shark Island's beaches.
More
10 Tours and Activities
---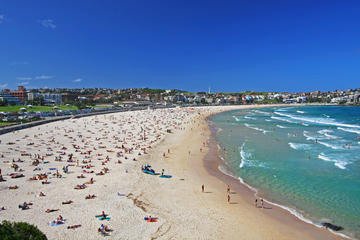 Australia's most famous beach is a curving golden stretch of pale gold sand and turquoise waves. Attracting beach bunnies, surfer dudes and beach lovers alike, it's one of Sydney's favorite hot spots for catching the sun and people watching. Lifeguards patrol the often pounding waves, so it's important to swim between the patrolled red and yellow flags. The sands of Bondi Beach are a popular spot for surfing lessons, beachside volleyball, yoga and community festivities, and the beach is overlooked by a stream of shops, restaurants and cafes for post-beach dining and relaxation. Picturesque coastal walks lead from Bondi over the seaside cliffs to the neighboring beaches of Clovelly and Bronte, and to the romantic Victorian cemetery overlooking the coast at Waverley.
More
65 Tours and Activities
---
The famous wax museum, Madame Tussauds, with its incredibly life-like wax figures of famous people, can be found all over the world. Sydney was added to the list when this location opened its gates in 2012. Australians and visitors from all over the world can take the opportunity to stand next to their favorite glitz and glamour star. From TV personalities, famous sport players, musicians, actors and A-List celebrities to world leaders, scientists and the key players in world history –the wax museum lets visitors meet a wide range of personalities from different fields and time periods. In addition to international celebrities such as Angelina Jolie, Barack Obama and Michael Jackson, Madame Tussauds in Sydney also makes an effort to include local personalities. The history zone is filled with founders and well-known names from the times of colonial Australia. In addition, next to Kylie Minogue, you can also find the stars of the Australian sports and media scene.
More
8 Tours and Activities
---
Hyde Park is Australia's oldest park and a welcoming green space in the heart of Sydney's city center. Divided into northern and southern sections by Park Street, Hyde Park contains several important monuments and statues, themed gardens, water features, the Archibald fountain and the ANZAC Memorial Building and visitor center. Although gazetted as a public park (common) in 1810 by Governor Macquarie and named after Hyde Park in London, today's park was not recognizable in its current form until 1927, when architect and landscape artist Norman Weekes won a competition to beautify the area. Prior to this, the park was used as a sports field, a racecourse and a venue for bareknuckle fights! The tiled central avenue that cuts through the park from Macquarie Street to the ANZAC Memorial is lined with Hill's Figs and is a lovely place to seek shade on a hot day.
More
17 Tours and Activities
---
The foundations of Sydney were built on convict labor, and the Hyde Park Barracks are where criminals who were sentenced to live out the rest of their days in Australia were housed. Opened to hold male convicts working on the government projects and later to house orphan girls escaping the Irish famine, it was after that also used as a female immigration depot, an asylum for impoverished women and a courthouse. All through history, it was the place where people in Australia certainly did not want to end up. Now, as a museum, the barracks tell the stories of those unlucky enough to pass through its doors. The building itself was also built with convict labor, after it was decided that housing the criminals in one place would improve productivity as well as their moral character. The structure looks nothing short of imposing with its massive shingled roof standing above a simple, durable façade of sandstock brick.
More
7 Tours and Activities
---
Coogee Beach is a family favorite, a sheltered arc of golden sand lapped by blue waves and patrolled by surf lifesavers in their red and gold. For a really safe swim, dip your toe in the walled ocean baths, protected from the strong Pacific waves. The welcome blue waters of Coogee Beach mark the end of the Bondi to Coogee coastal walk, and the stretches of lawn shaded by Norfolk pines offer an inviting spot to rest under. Bring a picnic, fire up the BBQ or replenish flagging energy at the string of beach cafes and chichi restaurants bordering the beach.
More
14 Tours and Activities
---