Xing Tian Gong Tours
Xing Tian Gong temple (Hsing Tian Kong) is one of Taipei's busiest working temples and an excellent place to visit if you want to witness modern Chinese Buddhism. Devotees come to worship Guan, a war general who after his death became deified as the god of war and the patron saint of businessmen. Guan lived from 162 to 219 AD and was a famous general during the Three Kingdoms period.

Xing Tian Gong wasn't built until 1967, making it one of the youngest in the city. In the inner courtyard, you'll often see throngs of worshippers kneeling and bowing in front of various alters; many leave flowers and tea as offerings on the main alter to Guan. The temple is said to bring good luck, and dozens of fortune tellers line the path outside of the temple to offer spiritual advice and guidance to those passing through.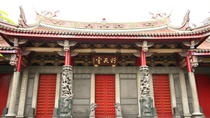 Go shopping and sightseeing in Taipei on a 7-hour tour that concludes with dinner and a Chinese opera performance. Travel on foot and by metro to Xingtian ... Read more
Location: Taipei, Taiwan
Duration: 7 hours (approx.)