While the city of Taipei offers enough to keep you occupied on a lengthy holiday, it's worthwhile to escape the seemingly endless sprawl of skyscrapers and the hurried pace of taxis and scooters everywhere and experience other parts of Taiwan.

If you are looking to see more of the island fondly called "Formosa," or beautiful island in Portuguese, consider one of these options that will make you fall in love with this country.

Taroko Gorge

One of the most dramatic sights outside of Taipei is the marble cliffs of Taroko Gorge. Accessible by car, train, or even a short flight, Taroko Gorge offers opportunities for hiking, biking, camping, river tracing, or just an afternoon of cruising through the gorge and taking in highlights like the Tunnel of Nine Turns and the Eternal Spring Shrine.

Sun Moon Lake

Although many people visit Sun Moon Lake on a multi-day tour, it is doable in one day if you are short on time. It is the largest body of water in Taiwan and home to one of island's indigenous aboriginal tribes. Unlike lakes elsewhere in the world, swimming is not permitted except during an annual race during Mid-Autumn Festival. People flock to Sun Moon Lake to go bird watching, cycle the lake's scenic perimeter, visit temples, and go boating on the water.  Be sure to take the boat to Lalu Island and try the famous tea braised eggs.

Danshui (Tamsui)

Danshui, or Tamsui, is a small city just north of Taipei that features excellent shopping and some interesting historical attractions. The Fisherman's Wharf is ideal at nighttime, especially with its iconic "lovers bridge" which provides a scenic photo backdrop. Be sure to stroll along the Tamsui Old Street and waterfront, and visit Fort San Domingo, or Hongmao Castle, constructed by the Dutch in 1641.

Yehliu

Located at Taiwan's northern tip, Yehliu is a cape that extends approximately 1,700 meters into the ocean and was formed by geological forces pushing Datun Mountain out of the sea. It is home to the Yehliu Geopark, a stunning look at one of the most intriguing natural wonders of the world. Its sea-erosion landscape is filled with unique shaped rocks and geological features given names like Queen's Head, Dragon's Head Rock, Honeycomb Rocks, Ginger Rocks and Fairy Shoe.

Yilan

The northeast coast of Taiwan is full of natural beauty and Yilan is one of the best spots to take in waterfalls, lakes, rivers, and other natural attractions. Yilan is unique with one side looking out on the sea while the other three sides are mountainous. Surfing is a popular pastime on the coast while many Taipei residents escape to one of the county's many mountainside B&Bs.

Wulai

Famous for its hot springs and aboriginal culture, Wulai is less than an hour away from Taipei. It is recommended to visit during the week if possible as the weekends see an influx of Taipei residents looking to escape the city themselves. Wulai's waterfall and hot springs are the main draw, but there are hiking trails that are worth exploring as well. Be sure to try some traditional aboriginal eats available along the main street – especially the bamboo tube rice and wild mountain yams.

Yingge

Considered the pottery area of Taiwan, Yingge is a close day trip from Taipei and the best spot to visit if you are in the market to bring back some traditional Chinese pottery and ceramics. There is a ceramics museum in town and several shops where you can try your hand at making your own pottery.

One of the best things to purchase in Yingge is traditional tea sets and artisan presentation stones. Shops along the pottery street carry everything from cheap factory produced options to hand carved one-of-a-kind tea sets that can set you back several thousand dollars.

Jiufen (Chiufen)

Jiufen, or Chiufen, is just north of Taiwan and was a prosperous gold mining town until the 1950's. Rather than becoming a ghost town after mining was discontinued, Taipei residents continued to flock to the town known for its quaint streets and abundant tea houses. Stroll along Jiufen (Jioufen) Old Street and try various local dishes, learn about Taiwanese tea culture and enjoy the views from this popular mountainous spot.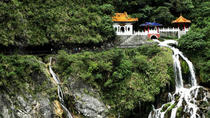 348 Reviews
See one of the seven wonders of Asia, the Taroko Gorge, on a full-day tour led by a local guide. Take a train ride on your own to Hualien from Taipei to see ... Read more
Location: Taipei, Taiwan
Duration: 13 hours (approx.)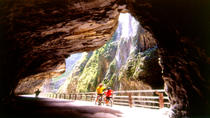 5 Reviews
View the natural and cultural highlights of Taroko Gorge, one of the Seven Wonders of Asia, on a private day trip from Taipei. Receive the expertise of a ... Read more
Location: Taipei, Taiwan
Duration: 13 hours (approx.)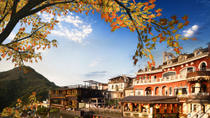 169 Reviews
Explore the Northeast Coast of Taipei and stroll through the Chiufen Village also known as Jiufen on this four-hour tour from Taipei. Drive to the east coast ... Read more
Location: Taipei, Taiwan
Duration: 4 hours 30 minutes (approx.)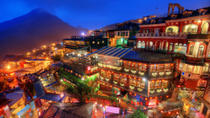 9 Reviews
Discover Taiwan's natural and cultural highlights on a private day trip to Yehliu National Geopark and Jiufen. Walk over fascinating geological formations at ... Read more
Location: Taipei, Taiwan
Duration: 9 hours (approx.)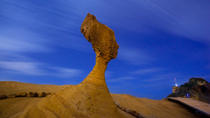 93 Reviews
A geologists dream tour, explore the harbor city of Keelung on this four-hour tour from Taipei. A 40-minute drive northeast of Taipei, Keelung is one of ... Read more
Location: Taipei, Taiwan
Duration: 4 hours (approx.)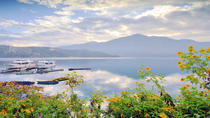 5 Reviews
Enjoy a scenic day trip and motorboat cruise around the clear emerald waters of Sun Moon Lake, Taiwan's largest body of water. Explore the region, including ... Read more
Location: Taipei, Taiwan
Duration: 10 hours (approx.)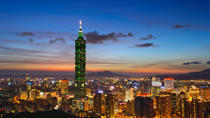 10 Reviews
See the best of the Taipei on a private layover tour, with round-trip transport from Taiwan Taoyuan International Airport! The Airport is approximately 24.5 ... Read more
Location: Taipei, Taiwan
Duration: 4-5 hours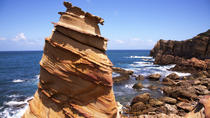 2 Reviews
If you love to photograph stunning seascapes, then this private day trip to Taiwan's northeastern coast is for you! Travel by private vehicle with an ... Read more
Location: Taipei, Taiwan
Duration: 9 hours (approx.)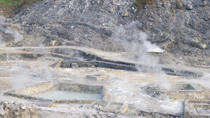 35 Reviews
Want to take a relaxing hot spring bath? Visit the Yangmingshan National Park and Beitou (Peitou) on this tour from Taipei. Visit the hot spring and ... Read more
Location: Taipei, Taiwan
Duration: 4 hours (approx.)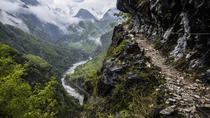 Experience the breathtaking beauty of Taiwan's east coast on a 3-day small-group hiking tour from Taipei. Traveling by luxury vehicle to Hualien, you'll enjoy ... Read more
Location: Taipei, Taiwan
Duration: 3 days (approx.)