Jiufen Village Tours
The historic town of Jiufen (Chiufen) is located in the north of Taiwan, near Taipei and Keelung cities, in the Northeast Coast National Scenic Area. Once the gold mining center of Taiwan, today the village mostly sees tourists looking to experience Taiwan's cultural past. Aside from the striking views of Taiwan's northeast coast, one of the main draws is Jiufen Old Street.
Jishan and Shuchi streets serve as borders for the historic commercial district, where ancient teahouses, traditional food stalls and local handicraft markets offer travelers a chance to touch the past. You can also visit Taiyang Co. Ruifang, a historic mining building from the gold rush era, and Songde Park, a quiet retreat stationed on Qinbian Road in the eastern section of Jiufen. Mount Jilong, set between the village and Jinguashi, is a favorite stop for hikers in search of a short, easy trail and more uninterrupted views of the Pacific.
Jiufen Old Street winds through a majority of the village, with evidence of Japanese occupation still apparent in the colonial-style structures and traditional teahouses. Shopping and dining are popular pastimes in the area—Taiwanese regions have their own local specialties, and the village of Jiufen is no different. Don't miss the taro balls, made with taro and tapioca starch and best served in a sweet red bean soup. Other snacks found on the street include rice cakes and Taiwanese meatballs.
Practical Info
Jiufen is located in northern Taiwan. Travelers can take the train north to Ruifang Station and transfer to the Keelung Transit bus. The bus ride is about 15 minutes and the town is located just past the police station.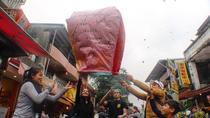 108 Reviews
Travel to the remote mountain town of Pingxi, renowned for its annual Sky Lantern Festival. Visit Shuinandong Area and see the unique blue and yellow color ... Read more
Location: Taipei, Taiwan
Duration: 8 hours (approx.)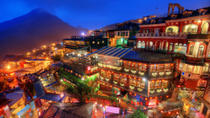 9 Reviews
Discover Taiwan's natural and cultural highlights on a private day trip to Yehliu National Geopark and Jiufen. Walk over fascinating geological formations at ... Read more
Location: Taipei, Taiwan
Duration: 9 hours (approx.)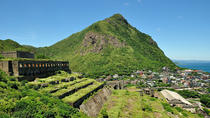 10 Reviews
Take a full-day tour of the highlights of the Northeast Coast including Yehliu Geopark, Golden Waterfall, Jiufen Old Street, Shifen Waterfall and Shifen Old ... Read more
Location: Taipei, Taiwan
Duration: 9 hours (approx.)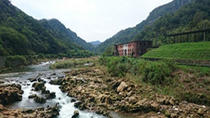 1 Review
Travel by bike along a railway track turned cycling route, through caves, past rivers, and into villages. After cyling, visit the old streets of Jiufen.
Location: Taipei, Taiwan
Duration: 8 hours (approx.)