The historic village of Chiufen (Jiufen) is located in the north of Taiwan, near Taipei and Keelung Cities, in the Northeast Coast National Scenic Area. Once the gold mining center of Taiwan, today the village sees mostly tourists looking to experience Taiwan's cultural past. Aside from the striking views of Taiwan's northeast coast, one of the main draws to Chiufen Village is Jiufen Old Street.

Chiufen village had very humble beginnings, taking its name from the few residents who lived there. Chiufen means "nine portions" in Mandarin and was bestowed on the village due to the nine families who called the area home during the Qing Dynasty.  Visitors to Jiufen Old Street will find themselves immersed in a completely different Taiwan, one influenced by Japanese occupation in the 1800's.

In the latter part of the century, gold was discovered, which turned this tiny village into a developing town of several thousand families. After WWII, Jiufen reverted to a sleepy village once gold mining was no longer a hot commodity. Its resurgence today is due in part to the 1989 Taiwanese movie A City of Sadness, a pivotal award-winning film that shed light on one of the most controversial events in Taiwanese history, the "228 Massacre." The 228 Massacre was an anti-government uprising in 1947 that resulted in the death of many civilians and was considered a taboo subject for many years.

A City of Sadness was not the only film set in Chiufen Village and Jiufen Old Street. Fans of Japanese anime may recognize Jiufen Old Street as the setting for Hayao Miyazaki's 2001 Academy Award winning Spirited Away.

Jiufen Old Street winds through a majority of the village and evidence of Japanese occupation is still apparent with colonial style structures and traditional teahouses. Shopping is abundant on Jiufen Old Street along with one of the most important Taiwanese pastimes – sampling local eats. Taiwanese cuisine is revered around the globe and regions have their local specialties, and the village of Chiufen is no different.

A "must try" specialty on Jiufen Old Street is taro balls, made with taro and tapioca starch. They may be served in a variety of ways, but the best is taro balls in a sweet red bean soup. Other famous snacks on the street include rice cakes made with Chinese herbs and Taiwanese meatballs, made with local Shaohsing Wine.

If you've ever had an interest in learning about traditional tea ceremonies in Taiwan, Jiufen Old Street is the perfect spot. The tea ceremony is an important part of Taiwanese culture and, here, you can enjoy a relaxing afternoon sampling popular local teas. If coffee is more your speed, forget looking for the nearest Starbucks and try one of the local Taiwanese coffee shops. Taiwanese are consuming more and more coffee and the island is gaining recognition for its local coffee production.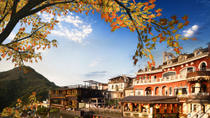 169 Reviews
Explore the Northeast Coast of Taipei and stroll through the Chiufen Village also known as Jiufen on this four-hour tour from Taipei. Drive to the east coast ... Read more
Location: Taipei, Taiwan
Duration: 4 hours 30 minutes (approx.)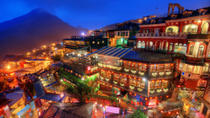 9 Reviews
Discover Taiwan's natural and cultural highlights on a private day trip to Yehliu National Geopark and Jiufen. Walk over fascinating geological formations at ... Read more
Location: Taipei, Taiwan
Duration: 9 hours (approx.)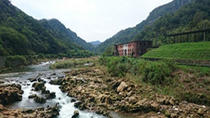 Travel by bike along a railway track turned cycling route, through caves, past rivers, and into villages. After cyling, visit the old streets of Jiufen.
Location: Taipei, Taiwan
Duration: 8 hours (approx.)