The Sicilian town of Taormina has been a popular tourist draw for more than a century, primarily because of its gorgeous beaches and beach resorts. But overlooking all the sand and surf are some of Sicily's best ancient archaeological finds, too.

Foremost among Taormina's ancient sites is the "Teatro Greco," or "Greek Theatre." The structure itself is actually of the Ancient Roman era, but the design is more akin to Greek rather than Roman theatres. It is believed that the theatre in Taormina we see today is built on the foundation of an older Greek theatre that once stood there.

Taormina's Greek Theatre dates from the 7th century B.C.E., and is the second-largest such theatre ruin on the island of Sicily - the largest being in Siracusa. Although the original material once used for seats has long since been repurposed elsewhere, the parts of the theatre that served as a backdrop for the actors remains largely intact - and is especially dramatic due to the theatre's position overlooking Taormina's beaches and the Mediterranean Sea far below. The theatre is still a performance venue, with open-air concerts and plays held on a regular basis.

In addition to the Greek Theatre, other ancient sites in Taormina include some remnants of an ancient city wall along the edge of the hill, the ruin of a temple adjacent to the theatre, and the remains of ancient buildings scattered all over the hill. The modern town of Taormina is built on the same spot as the ancient town, so the old and new sit side by side in some instances. Luckily for visitors, Taormina is small enough that you can easily visit both its remarkable ancient sites and its beautiful beaches in a short visit. With a day trip from Messina or Catania, or a shore excursion from a cruise vacation, you can explore Taormina's archaeological sites and spend time on the beach, too.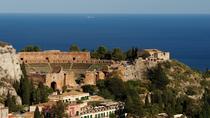 6 Reviews
Explore the chic coastal town of Taormina by self-balancing electric Segway! The 3-hour tour takes in all the sights around its oldest neighborhood, Borgo ... Read more
Location: Taormina, Italy
Duration: 3 hours (approx.)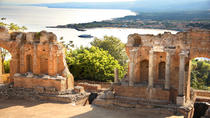 While you're in port in Taormina, your private driver will chauffeur you along the fabulous Sicilian coast to discover Taormina and Mt Etna. On this full-day ... Read more
Location: Taormina, Italy
Duration: 9 hours (approx.)