Sometimes the best souvenirs are the ones that let you continue to savor your travels long after you come home - which is why taking a class on a trip is such a great idea. In Sicily, learning to make some of the dishes you're eating is a fun way to bring Italy home. So when you're taking a break from sunbathing, you'll be pleased to know you can sign up for cooking classes in Taormina.

One of the fascinating things about Sicilian cuisine is how it reflects the island's history - conquered and ruled by so many different cultures, Sicilians have incorporated each new overlord's ingredients into their existing culinary pantheon. The result is a cuisine that is unique in Italy and, indeed, the whole world - which makes learning to make some Sicilian dishes an especially interesting souvenir.

During a cooking class in Taormina, you'll join a local chef first on a visit to a typical Sicilian market. There, you'll see what's in season and fresh, and the chef will show you how to choose the best ingredients for the dishes you'll make. Then you'll return to the kitchen to create a multi-course meal, followed by eating what you've made along with local Sicilian wine. Along the way, you'll learn more about what makes Sicilian food so special.

Of course, having the skills to cook a Sicilian meal when you get back home again will help you relive your Italian vacation for years to come. More than that, however, taking a cooking class in Taormina will give you a hands-on lesson in Sicilian history. Learning how to shop like an Italian chef will also serve you well no matter where you go - no doubt you'll be a more discerning shopper in the future when you know what to look for.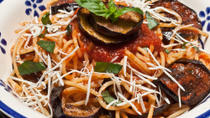 42 Reviews
Cook a 3-course Sicilian meal at a Restaurant in central Taormina, and then savor the dishes with samples of local wine! The 5-hour cooking class is led by a ... Read more
Location: Taormina, Italy
Duration: 5 hours (approx.)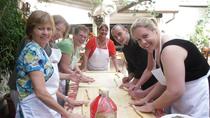 1 Review
At 9:00 am appointment at Porta Messina, the tour will begin at the Taormina market. After reaching the restaurant you will make home-made pasta and many other ... Read more
Location: Taormina, Italy
Duration: 5 hours (approx.)