It may be hard to imagine, when you're planning a relaxing getaway to the beautiful beach resort destination of Taormina, but you may want a break from the beaches at some point during your trip. Luckily, Taormina is within a short distance from several great options for day trips. Here are some of the best day trips from Taormina that you should consider.

Mt. Etna
This is the most popular day trip from Taormina, and from many other nearby cities, and with good reason. Mt. Etna is Europe's largest active volcano, and it's near enough to be visible from Taormina itself. You can actually go on hikes up the volcano (this is really best done with a local expert guide, due to the rapidly changing conditions on the mountain), or you can go on less strenuous hikes around the base. You can also take a train ride around the whole volcano.

Castelmola
If the views from Taormina aren't good enough, then spend part of a day hiking up to the tiny town that sits atop the hill overlooking Taormina. Castelmola is 1,800 feet above the sea, and its hilltop perch means you get panoramic views in every direction. You'll want to take a break at the top for lunch or some local sweet almond wine - it's a heck of a hike - or you can get there the easy way, by bus.

Valley of the Temples
Sicily is home to some of the best-preserved ancient Greek ruins anywhere, and you can see them on a day trip from Taormina. Head to the southern part of the island to the Valley of the Temples near Agrigento and you'll get to see the incredible remains of several temples.

Cyclops Riviera
Further up the eastern coast of Sicily is a stretch that's known as the Cyclops Riviera. Legend says the rocky outcroppings in the sea were boulders thrown by a lovesick Cyclops on land, but it's not monsters you go there to see today. These days, it's an ideal spot for beach-hopping through towns like Acireale and Aci Castello, peeking into historic churches and meandering down picturesque streets in between your time in the sun.

Siracusa
Head south along the eastern coast to reach the city of Siracusa, a UNESCO World Heritage Site. The historic city is located on an island connected to Sicily by three bridges, and the main attractions of Siracusa are all contained on the island. An excursion from Taormina can also include nearby attractions, such as ancient Greek and Roman ruins near Siracusa.

Baroque Towns of the Val di Noto
Many of us are familiar with Baroque style, but in Sicily there's a unique version of Baroque that you'll see frequently. Some of the best examples are in an area called the Val di Noto, where towns like Noto, Ragusa, Catania, Caltagirone, and Scicli make up a UNESCO World Heritage Site as the "Baroque Towns" of this area. They were all built in roughly the same era, and showcase the Sicilian Baroque style beautifully.

Aeolian Islands
For an island-hopping adventure, take a day trip to the Aeolian Islands off the northern coast of Sicily. The eight islands are, collectively, a UNESCO World Heritage Site, and many of the islands have active volcanoes.

Cefalu
If you haven't had your fill of beaches near Taormina, then you can head for this lovely town just outside Palermo on Sicily's northern coast. It's a popular spot for Palermo locals when they want to hit the beach, as it's only a few minutes away by bus.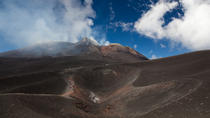 94 Reviews
Visit Sicily's famously fiery volcano, the magnificent Mount Etna, on a day trip from Taormina. Listed as a UNESCO World Heritage Site, Mount Etna is Europe's ... Read more
Location: Taormina, Italy
Duration: 8 hours (approx.)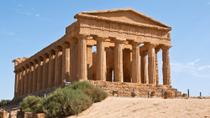 57 Reviews
Explore two of Sicily's top UNESCO World Heritage Sites – Valley of the Temples and Villa Romana del Casale – on a day trip from Taormina, led by a local ... Read more
Location: Taormina, Italy
Duration: 12 hours (approx.)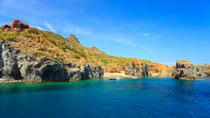 82 Reviews
Explore the volcanic islands of Panarea and Stromboli in the UNESCO-listed Aeolian Archipelago, on a day trip from Taormina. After traveling by motorboat to ... Read more
Location: Taormina, Italy
Duration: 13 hours (approx.)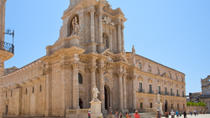 44 Reviews
Spend a day in the sunny city of Syracuse in southeast Sicily on a full-day tour from Taormina! With stunning coastal scenery as well as ancient Greek and ... Read more
Location: Taormina, Italy
Duration: 9 hours (approx.)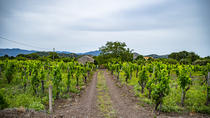 7 Reviews
With a professional sommelier as your guide, visit three wineries on the slopes of Mount Etna and experience the excellence of Etna Doc wines. Learn about the ... Read more
Location: Taormina, Italy
Duration: 7 hours (approx.)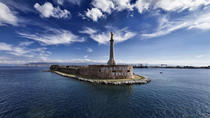 2 Reviews
While you're in port in Messina, take a full-day private shore excursion to Taormina and Mt Etna. Take in scenic views as your private driver takes you along ... Read more
Location: Messina, Italy
Duration: 9 hours (approx.)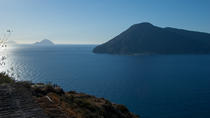 36 Reviews
Discover Lipari and Vulcano, two must-visit islands in the stunning UNESCO-listed Aeolian Archipelago. The chain of tiny islands boasts dramatic volcanic ... Read more
Location: Taormina, Italy
Duration: 11 hours (approx.)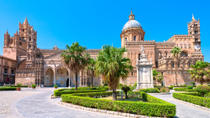 15 Reviews
Visit Palermo and Cefalù on a day trip from Taormina, and discover stately Arab-Norman architecture, impressive churches and piazzas with Sicilian charm! ... Read more
Location: Taormina, Italy
Duration: 13 hours (approx.)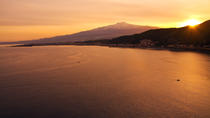 19 Reviews
Watch the sun set from the summit of Mount Etna on an evening tour from Taormina! After exploring the area around the fiery volcano at approximately 9,843 feet ... Read more
Location: Taormina, Italy
Duration: 8 hours (approx.)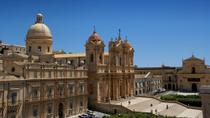 2 Reviews
Get to know Sicily's deep southeast on a day trip to Noto and Marzamemi from Taormina! After exploring the town of Noto with a local host and admiring its ... Read more
Location: Taormina, Italy
Duration: 9 hours (approx.)