It's often said that taking a class during a vacation can be a great way to learn more about a culture and, at the same time, bring home a souvenir in the form of a skill that will serve you for years to come. No skill is more delicious than cooking, and - one could argue - no destination more worthy of learning to cook than Italy. So, when you're visiting Taormina and you need a break from sunbathing, sign up for a cooking class to get a hands-on demonstration on Sicilian cooking techniques.

Sicilian food has a unique blend of Italian cuisine with the cuisines of every culture that once conquered the island - that mix of sweet, sour, and savory that you'll find in typical Sicilian dishes is an example of that. You won't be surprised at the variety of seafood in Sicilian food, since it's an island, but you might not have thought about how the richness of the volcanic soil contributes to the spectacular quality of produce - including grapes for fantastic local wines.

Spend some time at a Taormina market with your chef and instructor to learn about how to choose the perfect ingredients for a meal (this is, by the way, an excellent skill to learn, too!), and then take your fresh ingredients back to the kitchen to get hands-on lessons in the creation of two dishes. In doing so, you'll learn more about Sicilian history and, through that, what makes Sicily's cuisine special.

Finish your cooking class experience in Taormina by sitting down to dine on the meal you've just created with your fellow classmates and the chef/instructor, washing it all down with some of that local Sicilian wine.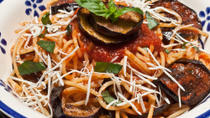 42 Reviews
Cook a 3-course Sicilian meal at a Restaurant in central Taormina, and then savor the dishes with samples of local wine! The 5-hour cooking class is led by a ... Read more
Location: Taormina, Italy
Duration: 5 hours (approx.)