3 Days in Taupo: Suggested Itineraries
By Viator, May 2013
With its eerie lava fields, glittering lake and dramatic backdrop of volcanoes, Taupo is the kind of place you might never want to leave, but with only 3 days to spend, here are a few ideas to make the most of your stay.

Day 1: Get steamy at the hot springs
You can't visit Taupo without exploring the region's many geothermal attractions so set aside a day to marvel over hissing geysers and dodge gurgling mud pools. Both the Craters of the Moon park and the Orakei Korako Cave and Thermal Park, offer spectacular landscapes that will transport you to another world, but to really experience the delight of the region's thermal pools, head to the striking Wairakei Terraces, where you can enjoy a dip in the healing waters, indulge in a natural mud-wrap and tuck into some traditional Maori cuisine. Want to know more about the natural wonders? Pay a visit to Taupo's Volcanic Activity Center, where a series of fun interactive exhibitions will tell you all you need to know about the area's unique terrain.

Day 2: Explore the lake
Escape the clouds of sulfur for the fresh air of Lake Taupo and start your day with a boat or kayak excursion to check out the incredible Maori Rock Carvings in Mine Bay. Spend the afternoon walking the 2-hour Huka Falls Trail between the mighty Huka Falls and the Aratiatia Dam, timing your arrival for the opening of the dam gates.  For a real thrill, you can even enjoy the Aratiatia rapids on a jet boat or kayaking excursion.

Day 3: Get your adrenaline pumping
Lake Taupo is a center of adventure sports, so make sure you challenge yourself to at least one hair-raising activity before you move on. Bungee jumping, skydiving, wakeboarding and paragliding will all get your adrenaline pumping or else opt for a relaxing hot air balloon ride. Alternatively, get your heart rate up with a mountain biking or horse-riding excursion around the lake. Finally, chill out with a picnic lunch and take in the views at the beautiful hilltop Waipahihi Botanical Gardens.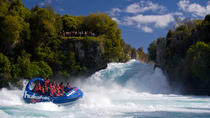 8 Reviews
Hold on tight on an exciting 30-minute jet-boat ride on the Waikato River! Spinning and speeding your way to Huka Falls, New Zealand's most spectacular falls, ... Read more
Location: Taupo, New Zealand
Duration: 30 minutes (approx.)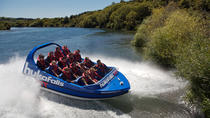 21 Reviews
Take this action-packed challenge in Taupo that will have you experiencing the best of the North Island's great outdoors from the water! Brace yourself for a ... Read more
Location: Taupo, New Zealand
Duration: 2 hours (approx.)