681 Reviews
Address:

Masada, Israel

Hours:

Apr - Sept 8am-5pm, Oct - Mar 8am-4pm. Fridays and holiday eves, site closes one hour earlier.

Admission:

Cable Car entrance: NIS 67; Snake Path entrance: NIS 25
Masada Tours
The incredible fortress of Masada, located in the astonishing Judean Desert near the Dead Sea, has been symbolic to the Israeli people since the Roman era, symbolizing bravery and self-sacrifice in the face of adversity. The plateau is surrounded by rocky cliffs on all sides, and has been a UNESCO World Heritage Site since 2001.
Upon arriving, you can either walk to the entrance or take a cable car lift. While the cable car is the fastest way to reach the site, you can walk up the two beautitful paths of either the "Snake Path" or the Roman Ramp.
When you have reached the top, explore Herod's palace complex with its amazing ancient bath houses and mosaics. There are also remnants of Roman encampments, synagogues, and homes. Combined with the breathtaking views of the Judean Desert and the Dead Sea, Masada is an experience not to be missed.
Practical Info
If you have a private car, you can access Masada from either Road 90, which runs along the coast of the Dead see, or Road 3199 from Arad. There is a parking lot at the end of the road, from which you can ascend the plateau.
If you're taking a bus, you can take the 486 from Jerusalem or Ein Gedi, or the 421 from Tel Aviv.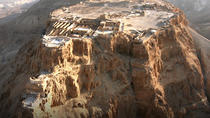 Start your journey from your hotel in the Dead Sea region. You will then descend towards the lowest spot on the planet and make a stop at Qasr El Yahud and the ... Read more
Location: Masada, Israel
Duration: 8 hours (approx.)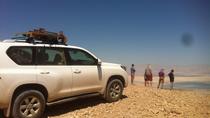 GoKEDEM Private tour - Enjoy a unique 4x4 day trip and enjoy an off road adventure to encounter the Negev wild nature to discover Masada's unique story. Try a ... Read more
Location: Tel Aviv-Yafo, Israel
Duration: 12 hours (approx.)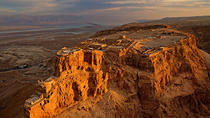 Tour to the Judean Desert, ascend Masada by cable car and see the caves where the Dead Sea Scrolls were discovered. Float in the mineral-rich Dead Sea and ... Read more
Location: Herzliya, Israel
Duration: 10 hours (approx.)
Take a tour to Masada, one of the most visited sites in Israel. Alight Masada in a cable car, or take a walk up the winding path. The view from the top is ... Read more
Location: Eilat, Israel
Duration: 11 hours (approx.)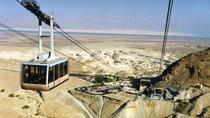 Take a one day trip to Ein Gedi and Masada from Eilat with a professional guide. Alight a cable car to the top of Masada to see beautiful views of the ... Read more
Location: Eilat, Israel
Duration: 10 hours (approx.)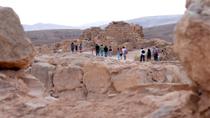 324 Reviews
Discover two of Israel's must-see sights on this memorable day trip from Tel Aviv. You'll explore the legendary ruins of Masada and King Herod's palaces, and ... Read more
Location: Tel Aviv, Israel
Duration: 12 hours (approx.)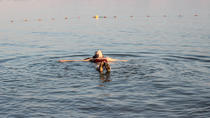 4 Reviews
Starting from Tel Aviv, travel on this unique tour of the region's highlights with a licensed guide. Visit the Masada, Ein Gedi and the Dead Sea on this ... Read more
Location: Tel Aviv-Yafo, Israel
Duration: 10 hours (approx.)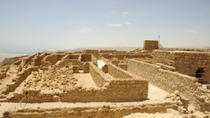 5 Reviews
Marvel at the natural and historical splendors of Israel's Dead Sea region on this private day trip from Jerusalem. Traveling in a private vehicle, drive south ... Read more
Location: Jerusalem, Israel
Duration: 9 hours (approx.)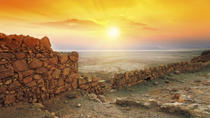 8 Reviews
Witness an unforgettable sunrise from the top of ancient Masada and enjoy time at beautiful Ein Gedi and the Dead Sea on this morning trip from Jerusalem! ... Read more
Location: Jerusalem, Israel
Duration: 10 hours (approx.)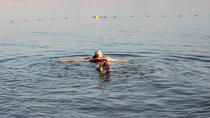 8 Reviews
Visit the highlights of Masada, Ein Gedi and the Dead Sea on this guided tour from Jerusalem. See Masada, the desert fortress, and Ein Gedi, the beautiful ... Read more
Location: Jerusalem, Israel
Duration: 8 hours (approx.)