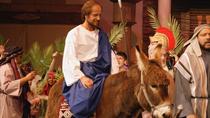 Leave Tel Aviv and celebrate Palm Sunday in Jerusalem! The day trip includes mass at a church in Bethpage followed by the annual Palm Sunday procession along ...
Location: Tel Aviv, Israel
Duration: 7 hours 30 minutes
Entering Bethlehem we will see the beautiful Christmas decorations and stop at a local store for refreshments. At Manger Square we enjoy a festive dinner. ...
Location: , Israel
Duration: 1 day