Mount Teide
Towering 3,718 m over the island of Tenerife, scaling the high-altitude peak of Spain's highest mountain can be, quite literally, breathtaking. Thankfully, you don't have to climb the summit to take in the views from Mount Teide – the Teide Cable Car whisks visitors to an observation deck at 3,550m, where you can enjoy dramatic views that span as far as the neighboring Canary Islands on clear days. It's also possible to hike to the lookout point, a taxing climb that takes around 5 hours, but to scale the final 200m to the highest point, climbers need to secure a free permit from the National Park office.

Set in an ancient caldera at the center of the UNESCO World Heritage listed Teide National Park, the Mount Teide volcano dates back around 1 million years and ranks as the 3rd highest volcano in the world, rising 7,500 m above the ocean floor. Although the volcano hasn't erupted since 1909, it remains active and seismic activity was recorded as recently as 2003.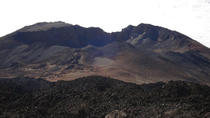 23 Reviews
Venture to the top of Tenerife's Mt Teide volcano on this private, half-day tour, led by an expert guide. After traveling through the beautiful Corona Forestal ... Read more
Location: Tenerife, Spain
Duration: 5 hours (approx.)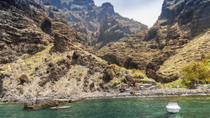 24 Reviews
Explore the villages and landscapes around Tenerife's Mt Teide and the Masca valley on a full-day tour! After leaving southern Tenerife, make your way through ... Read more
Location: Tenerife, Spain
Duration: 9 hours 30 minutes (approx.)
Enjoy a fantastic jeep safari to the Natural Reserve of the volcano Teide.
Location: Playa de la Américas, Spain
Duration: 4 hours (approx.)
5 Reviews
Enjoy this jeep safari to the Natural Reserve of Teide and the beautiful region of Masca.
Location: Playa de la Américas, Spain
Duration: 7 hours (approx.)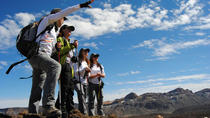 7 Reviews
Swap Tenerife's beaches for the rugged, lava-cut landscape of Teide National Park on this 4-hour tour, led by an expert guide. After pickup from your hotel in ... Read more
Location: Tenerife, Spain
Duration: 4 hours (approx.)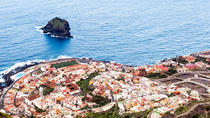 Take a coast to coast journey on this full-day Tenerife landscapes tour. Enjoy stunning scenery and discover a landscape that is naturally diverse thanks to ... Read more
Location: Playa de la Américas, Spain
Duration: 9 hours (approx.)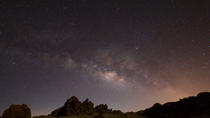 2 Reviews
Embark on an incredible journey through the night sky during a 45-minute Mt Teide stargazing experience in Tenerife. Travel deep into the UNESCO-listed Teide ... Read more
Location: Tenerife, Spain
Duration: 45 minutes (approx.)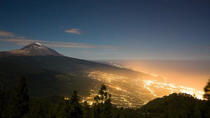 3 Reviews
See the stars from Tenerife's Mount Teide, on a 4.5-hour evening tour from southern Tenerife! The dormant volcano — Spain's tallest — lies at the heart of the ... Read more
Location: Tenerife, Spain
Duration: 4 hours 30 minutes (approx.)
1 Review
Discover Tenerife on this full-day jeep tour with guide. Choose from three routes depending on your interests. Enjoy a delicious lunch and convenient pickup ... Read more
Location: Playa de la Américas, Spain
Duration: 8 hours (approx.)
1 Review
We will take you into a comfortable excursion through the most interesting and exciting areas of Tenerife! With our experience we offer an excursion that can ... Read more
Location: Santa Cruz de Tenerife, Spain
Duration: 8 hours (approx.)