Reach the highest point on Tenerife—in fact, the highest point in Spain—with a hike to the top of the Canary Islands' Mt Teide. As the world's third-tallest volcano, dormant El Teide's summit reaches 3,718 meters into the sky, offering up unparalleled views of the island, ocean and archipelago beyond.
Experience El Teide and all of its otherworldly majesty by conquering it on a visit to the summit. Starting at 2,200 meters at the base of the volcano, a round-trip hike takes some nine hours to complete. If it sounds like too much trekking for one day, break up the excursion by staying at a refuge part of the way up, then take to the trail early the next morning in order to catch the sunrise. No matter how you tackle the hike, know that it isn't an easy one, as altitude sickness is a real concern.
Fortunately, though, hiking isn't the only way to reach El Teide's crest. Many island visitors prefer to hitch a ride on the teleférico cable car, which whisks riders to the peak on a quick eight-minute journey. While it stops 200 meters short of the summit, you can still hike the remaining distance (which takes about an hour) as long as you have the appropriate permit. This permit—which must be obtained whether you take the cable car or hike the whole way—can be acquired at the national park office in the capital city of Santa Cruz de Tenerife.
El Teide can be explored by car too, which is especially advantageous during evening and night hours, when the mountaintop puts on a different kind of show. It's one that is less about sweeping views of the landscape and more about the sky, which transforms from a magical sunset to a blanket of star-speckled constellations. Note, though, that if you wish to scale Teide's switchback lanes by car, the best way to do so is certainly with the help of a skilled driver who knows the lay of the land, or more precisely, the curves in the road.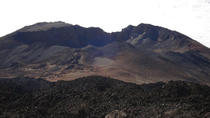 23 Reviews
Venture to the top of Tenerife's Mt Teide volcano on this private, half-day tour, led by an expert guide. After traveling through the beautiful Corona Forestal ... Read more
Location: Tenerife, Spain
Duration: 5 hours (approx.)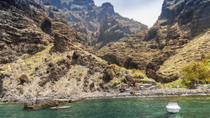 27 Reviews
Explore the villages and landscapes around Tenerife's Mt Teide and the Masca valley on a full-day tour! After leaving southern Tenerife, make your way through ... Read more
Location: Tenerife, Spain
Duration: 9 hours 30 minutes (approx.)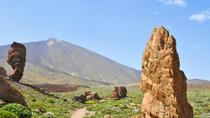 11 Reviews
Leave the beaches behind and enjoy a full-day shore excursion exploring beautiful Teide National Park with a private guide! Admire some of the inland's most ... Read more
Location: Tenerife, Spain
Duration: 6 hours (approx.)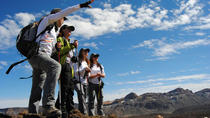 9 Reviews
Swap Tenerife's beaches for the rugged, lava-cut landscape of Teide National Park on this 4-hour tour, led by an expert guide. After pickup from your hotel in ... Read more
Location: Tenerife, Spain
Duration: 4 hours (approx.)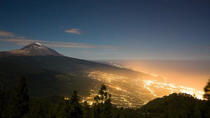 3 Reviews
See the stars from Tenerife's Mount Teide, on a 4.5-hour evening tour from southern Tenerife! The dormant volcano — Spain's tallest — lies at the heart of the ... Read more
Location: Tenerife, Spain
Duration: 4 hours 30 minutes (approx.)