No reviews, be the first!
Address:

Callanish Stone Circle, Callanish, Isle of Lewis, UK HS2 9DY, Scotland

Hours:

June-Aug Mon-Sat 9:30am-8pm; Sep-Oct. Mon-Sat 10am-6pm; Nov Tue-Sat 10am-4pm
Overlooking Loch Roag and the hills of Great Bernera on the Isle of Lewis, Callanish Standing Stones date back to the late Neolithic period over 4,500 years ago. At the famous site there are nearly 50 megaliths which radiate out from the main stone in the shape of a distorted Celtic cross.
Thought to have been abandoned in 1500 BC because of the change in the Outer Hebrides' climate to colder, wetter weather, over the years the stones became veiled in a thick blanket of peat. Since then, many theories have been given for why our ancestors built the stones. The most likely reason is that they formed a prehistoric lunar observatory. The Callanish Stones are also the focal point of many Lewis islanders' folk tales — a popular story is that the stones are "False Men;" island giants turned to stone by Saint Kieran who was furious when the men refused to convert to Christianity. Featured in scenes from Pixar's Brave and made from Lewisian Gneiss, the tallest of the stones stands 4.8 meters tall and marks the spot where a burial cairn has been found to contain human remains. 
Cared for by Historic Scotland, at the Calanais Centre overlooking Loch Roag there's a gift shop and cafe with home-baked cakes and main meals, soup and sandwiches for sale. The center also has a popular exhibition, the Story of the Stones, where you can learn more about this dramatic site.
Practical Info
Entrance to Calanais Standing Stones is free. The Calanais Centre is open Monday to Saturday from 9:30am-8pm (June-August). From April-May, and from September-October, the center is open from 10am-6pm, and in November it's open from 10am-4pm (Tuesday-Saturday).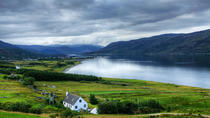 5 Reviews
Discover Scotland's stunning archipelago – the Outer Hebrides -- on this 3-day tour from Inverness. After traveling by minibus through the Scottish Highlands ... Read more
Location: Inverness, United Kingdom
Duration: 3 days (approx.)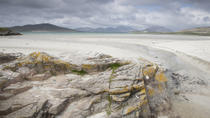 2 Reviews
Explore Scotland's Outer Hebrides and the Isle of Skye on a 6-day tour from Edinburgh and discover the islands' enchanting scenery, history and people! ... Read more
Location: Edinburgh, United Kingdom
Duration: 6 days (approx.)