Looking for luxury, glamor, world-famous beaches, and a little bit of wildlife? The Whitsundays and Hamilton Island can tick all those boxes. Check out this itinerary of cherry-picked attractions.
Day 1: Cruise Whitehaven Beach and Hamilton Island
Kick off your time in the area with a day cruise to Whitehaven Beach and Hamilton Island – aboard a large, high-speed and air-conditioned cruising catamaran. Because, let's face it, if you're heading to one of the world's best beaches and the Whitsunday's largest resort, you don't want to go low-rent! Spend some time on cosmopolitan Hamilton Island, the largest island resort in the South Pacific. It's full of pools, boutiques, galleries, bars, restaurants, walking trails, a wildlife gallery and more. In the afternoon, hit the white silica sand of picturesque Whitehaven Beach. Renowned as one of the top ten beaches in the world, its shallows are graced by various species of turtles. Swim in the crystal clear waters, take a leisurely walk along the pristine beach, join in the beach games or just relax and soak up the sunshine.
Day 2: Safari with the crocodiles or take to the high seas
After a lovely day of resort relaxation, it's time to get into the wild on a Whitsunday Crocodile Safari. Travel by open-air tractor-drawn wagon-train through Goorganga wetlands then get your camera ready for croc-spotting on a calm water adventure cruise along the Proserpine River. Prefer Pirates of the Caribbean to Crocodile Dundee? Get on board for a Whitsunday Islands and Whitehaven Beach Sailing Adventure where you can sail through Australia's favorite maritime playground on one of the world's fastest commercial sailing catamarans. Stop to explore the spectacular Whitsunday Islands National Park or snorkel with the marine life at an inner-reef site.
Day 3: Champagne in the sky and all the islands in the sea 
Why not finish up with some 24-carat luxury? As in a champagne picnic tour by helicopter? Oh yeah. Enjoy a bird's-eye view as you're whisked away to Whitehaven Beach. Relax as you sip champagne and enjoy a delicious picnic lunch while palm trees sway in the breeze and waves rustle on the shore. See the day out exploring islands at your leisure by ferry. Grab a Whitsunday Islands Hopper Pass so you can hop on and hop off as many times as you like between Airlie Beach, Daydream Island Resort and Long Island Resort.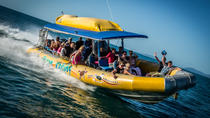 43 Reviews
Explore the beautiful Whitsunday Islands on a full-day tour through paradise via a sturdy motorized raft. Zip over to secluded spots to snorkel over pristine ... Read more
Location: Whitsundays, Australia
Duration: 7 hours (approx.)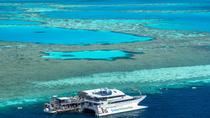 83 Reviews
Do you want to experience a close encounter with the famous Great Barrier Reef, then this is it! Enjoy a cruise out to the reef, where you'll moor up next to ... Read more
Location: Airlie Beach, Daydream Island, Hamilton Island
Duration: 10 hours (approx.)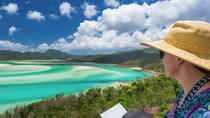 32 Reviews
Spend a full day exploring Whitehaven beach, one of the most beautiful beaches in the Whitsunday Islands. You'll enjoy a guided hike to Solway Circuit Lookout ... Read more
Location: Whitsundays, Australia
Duration: 11 hours 30 minutes (approx.)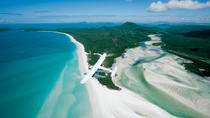 14 Reviews
Take in remarkable views of the Whitsunday Islands on a scenic flight by seaplane. Choose from five flight options to fly over this stunning part of the Great ... Read more
Location: Whitsundays, Australia
Duration: Varies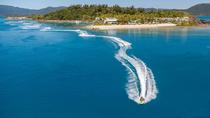 11 Reviews
Take a guided Jet Ski tour of the gorgeous Whitsunday Islands, departing from mainland Airlie Beach! Choose a shorter morning or afternoon tour around Pioneer ... Read more
Location: Whitsundays, Australia
Duration: Varies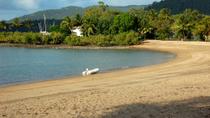 20 Reviews
Arrive at your Airlie Beach or Shute Harbor hotel in comfort and save yourself the hassle of finding an airport taxi by pre-booking a shared shuttle ... Read more
Location: Whitsundays, Australia
Duration: Varies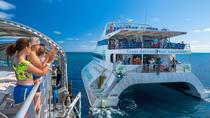 14 Reviews
Experience the Great Barrier Reef for two days and one night. By day, enjoy all the activities on offer at Reefworld, a pontoon moored on one of the most ... Read more
Location: Airlie Beach, Hamilton Island
Duration: 2 days (approx.)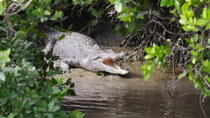 10 Reviews
The Whitsunday Crocodile Safari is a unique nature experience, which offers you an exciting day trip into the realm of the saltwater crocodile. You'll depart ... Read more
Location: Whitsundays, Airlie Beach, Australia
Duration: 7 hours 30 minutes (approx.)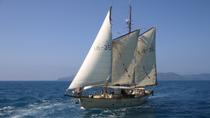 5 Reviews
Spend the day at sea, sailing, snorkeling, beachcombing and enjoying the Whitsunday Islands' spectacular natural beauty. Go snorkeling at a protected beach and ... Read more
Location: Whitsundays, Australia
Duration: 8 hours 30 minutes (approx.)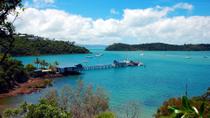 3 Reviews
Pre-book efficient and reliable transport to take you from your Airlie Beach or Shute Harbour hotel to Proserpine Airport (PPP) in a shared minicoach with a ... Read more
Location: Whitsundays, Australia
Duration: Varies