Forget Bondi, Manly or even the Gold Coast. The best beaches in Australia aren't at these admittedly iconic sites. No, they're further north, surrounded by turquoise waters and teeming reefs, on islands covered by rainforest. The Whitsunday Islands host some of the most beautiful beaches of the world, and these are some of their best:

Airlie Beach is the gateway to the Whitsundays. This is where you'll drive, land or be dropped for you island adventures. Stop in Airlie Beach to join your sailing tour, peruse the yacht rentals for a more private adventure, or make your connection to one of the resort islands in the archipelago right offshore. Though the beach at Airlie is deceptively not great for swimming the man-made lagoon is beautifully landscaped and patrolled by lifeguards. Take a picnic down and swim for an afternoon, you won't regret it. Taking a walk along the marina – the yachts lined up are an interesting sight.

If you haven't heard of the Whitsunday Islands, odds are you've heard of, or at least seen, Whitehaven Beach. Whitehaven is the picture perfect postcard beach shot. Almost 5km of fine, white, powdery sand that disappears under crystal clear water that fades to deep aqua make Whitehaven Beach the most visited beach in the Whitsunday Islands group. It's well worth joining a small tour to visit the beach, or charter a boat yourself, to be able to move away from the large tourist crowds. Even the hordes that can descend on the beach during peak season can't detract from the beach's beauty, but if they prove too much you can always hop on a helicopter tour and experience the beauty of Whitehaven Beach from the air.

Hamilton Island is the Whitsundays' premier resort island, and Catseye Beach is the quintessential resort beach. With access to resort facilities, Catseye is only minutes from both creature comforts and the wild outdoors. Pool lounges are set up right on the sand, and a multitude of watersport equipment is available to hire, from snorkelling gear to paddle boards and even catamarans for a mini sailing experience.

The Whitsundays, aside from their resorts and accessibility, are known for their pockets of wilderness. Very few of the islands in the archipelago have developments on them, and by exploring them by boat – be it a tour or self-charter – opens up a world of private beaches and islands large to small. Pebble Beach on Hook Island is one of those beaches. The island itself is a rugged national park with spectacular lookouts and a small resort, and, like all the islands in the Whitsundays, surrounded by reef. Pebble Beach is just one of the beaches on Hook Island but offers the best snorkelling of the surrounding reef.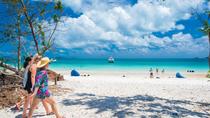 37 Reviews
Enjoy relaxing on the pure white sand of Whitehaven Beach. You can walk along the seven kilometer stretch of natural silica sand, swim in crystal clear water ... Read more
Location: Whitsundays, Australia
Duration: 5 hours 30 minutes (approx.)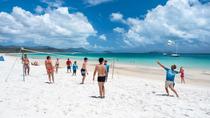 33 Reviews
The only way to experience one of the world's best beaches and the Whitsundays largest resort island is in style and comfort aboard a large, high-speed and ... Read more
Location: Whitsundays, Airlie Beach, Australia
Duration: 9 hours (approx.)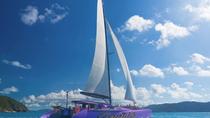 28 Reviews
Sail through the Whitsunday Islands and explore magnificent Whitehaven Beach, voted one of the world's best beaches on this full-day sailing adventure from ... Read more
Location: Whitsundays, Australia
Duration: 10 hours (approx.)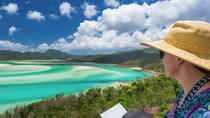 32 Reviews
Spend a full day exploring Whitehaven beach, one of the most beautiful beaches in the Whitsunday Islands. You'll enjoy a guided hike to Solway Circuit Lookout ... Read more
Location: Whitsundays, Australia
Duration: 11 hours 30 minutes (approx.)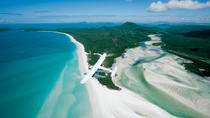 14 Reviews
Take in remarkable views of the Whitsunday Islands on a scenic flight by seaplane. Choose from five flight options to fly over this stunning part of the Great ... Read more
Location: Whitsundays, Australia
Duration: Varies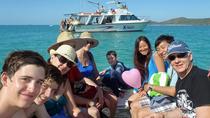 10 Reviews
Join a Whitehaven Beach day trip with Whitehaven Xpress, a family operated full day trip with snorkeling, swimming, bush-walking and Whitehaven Beach BBQ. ... Read more
Location: Airlie Beach, Australia
Duration: 8 hours (approx.)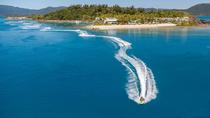 11 Reviews
Take a guided Jet Ski tour of the gorgeous Whitsunday Islands, departing from mainland Airlie Beach! Choose a shorter morning or afternoon tour around Pioneer ... Read more
Location: Whitsundays, Australia
Duration: Varies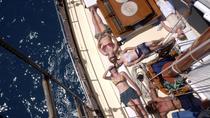 4 Reviews
Sail the Whitsundays in a 62-ft gaff rigged schooner. Help out with the sails or chill on deck as the sails fill in the breeze. Head for the Whitsundays' ... Read more
Location: Airlie Beach, Australia
Duration: 10 hours (approx.)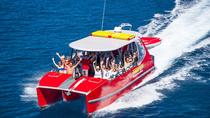 9 Reviews
Take an exhilarating cruise in the Whitsundays on board an amazing high-speed ocean-going catamaran. The vessel is designed for stability and speed and ensures ... Read more
Location: Whitsundays, Australia
Duration: 1 day (approx.)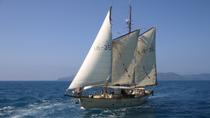 5 Reviews
Spend the day at sea, sailing, snorkeling, beachcombing and enjoying the Whitsunday Islands' spectacular natural beauty. Go snorkeling at a protected beach and ... Read more
Location: Whitsundays, Australia
Duration: 8 hours 30 minutes (approx.)