No reviews, be the first!
Address:

Sheshi Skënderbej (Skanderbeg Square), Tirana, Albania 1000

Hours:

Open Mon–Fri 8pm–3pm

Admission:

100 lek
Clock Tower Tours
Located on Tirana's central Skanderbeg Square, the Clock Tower is one of the Albanian capital's great landmarks and was built in 1822 by Haxhi Et`hem Bey, who also designed the mosque next door. Just over a century later, the height of the clock tower was increased to 115 feet (35 meters) high and today it competes with the slender minaret of the neighboring Et`hem Bey Mosque; by night they are both beautifully illuminated, throwing flickering shadows across the square. The tower is almost Venetian in appearance, with a simple stone tower topped with clocks on all four sides and a pyramid-shaped cupola. Views from the wrought-iron balcony that rings the tower just below the clocks – a climb of 90 stone steps – look down over the great equestrian statue of military hero Skanderbeg, the National Historical Museum, the center of the city and beyond to the Dajti mountain range. A small museum adjacent to the tower holds exhibitions on Albanian life and culture.
Practical Info
Sheshi Skënderbej (Skanderbeg Square). Open Mon–Fri 8am–3pm. Admission 100 lek to museum and tower. Best accessed on foot.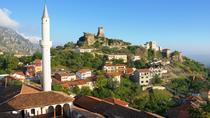 4 Reviews
Take a chance to get to know two beautiful cities in Albania: Kruje and Tirana. Kruje provides to the visitors the great view of majestic landscape and a rich ... Read more
Location: Tirana, Albania
Duration: 1 day (approx.)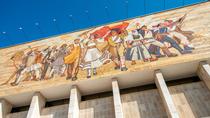 5 Reviews
It is a great pleasure to visit Tirana during all seasons. The city attracts visitors from all over the world. The tourists reach here to have a look over the ... Read more
Location: Tirana, Albania
Duration: 2 hours (approx.)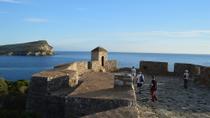 This is an unique tour, which gives you the opportunity to enjoy the best that Ionian coast has to offer. See its cultural jewels and natural wonders. Since ... Read more
Location: Vlorë, Albania
Duration: 9 days (approx.)