Mt Fuji
As Japan's highest mountain, the legendary Mt Fuji stands 12,388 feet (3,776 meters) tall. Whether you hike all the way to the top or take it easy at the Fuji Visitor Center's observation deck, visiting this UNESCO World Heritage site is an unforgettable experience.
Travelers from around the world head to Hakone National Park to see the mountain, and over 1 million of them hike all the way to the top each year, generally between July and August when the weather is the mildest and snow is limited. With spectacular 360-degree views of Lake Ashi, the Hakone mountains and the Owakudani Valley, the trek is absolutely worth it.
But even if you're not looking to climb the holy mountain, there are still plenty of viewpoints and attractions easily accessible by bus. Travelers can head to the Fuji Visitor Center to visit a small museum and view exhibits covering the Fuji Five Lakes and Mt Fuji's cultural importance; grab a bite to eat; or head out to the observation deck to catch views onto the mountain. Further up at 7,545 feet (2,300 meters), Mt Fuji's 5th Station offers additional unobstructed views along with shrines and souvenir shops. Both locations also serve hikers preparing for their ascent.
Practical Info
Located 62 miles (100 kilometers) from Tokyo, Mt Fuji borders the Yamanashi and Shizuoka prefectures in Japan. The mountain is often reach by bullet train from Tokyo and then explored via tour bus. Mt Fuji is notorious for bad weather, so plan your trip when visibility will be good.
3440 Reviews
Discover some of Japan's most famous highlights on a full-day guided tour from Tokyo. Travel to Mt Fuji's bustling 5th Station and learn about the revered ... Read more
Location: Tokyo, Japan
Duration: 11 hours (approx.)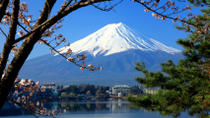 781 Reviews
Visit Japan's iconic Mt Fuji, cruise Lake Ashi and ride the Mt Komagatake Ropeway on this popular day trip by deluxe coach from Tokyo. Enjoy sweeping views of ... Read more
Location: Tokyo, Japan
Duration: 11 hours 30 minutes (approx.)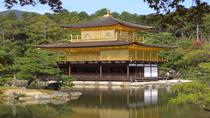 109 Reviews
See the iconic highlights of Japan on a 3-day guided tour to Mt Fuji, Kyoto and Nara. Visit revered Mt Fuji, take a boat cruise on Lake Ashi and an aerial tram ... Read more
Location: Tokyo, Japan
Duration: 3 days (approx.)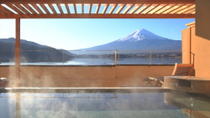 124 Reviews
Take a full day excursion from Tokyo to the Mt Fuji area, first traveling by coach up the slopes of the mountain to 5th station, famous for its great views. ... Read more
Location: Tokyo, Japan
Duration: 12 hours (approx.)
2 Reviews
Going to multiple famous must-visit Japan attractions within a day! To ride on the Hakone sightseeing cruise "Pirate Ship" and visit Mt. Fuji 2nd ... Read more
Location: Shinjuku, Japan
Duration: 11 hours (approx.)
On this one day Hakone tour, you can enjoy a panoramic view of Mt Fuji with the wilderness and breathtaking landscape. Hakone, located near Mt Fuji and ... Read more
Location: Ashigarashimo District, Japan
Duration: 12 hours (approx.)
1 Review
This is a private day trip to Mt Fuji, Lake Ashi, Oshino Hakkai and other striking locations around this World Heritage Site. Your multilingual guide will ... Read more
Location: Tokyo, Japan
Duration: 10 hours (approx.)
There is a culture in Japan that is unbelievably unique! The culture is known as "Hanami" or "Flower Viewing" culture. This culture is ... Read more
Location: Shinjuku, Japan
Duration: 11 hours (approx.)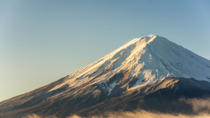 1 Review
On this tour, you will get the chance to visit some recommended destinations around the majestic Mt.Fuji. Some of the destinations that you can choose to visit ... Read more
Location: Minamitsuru District, Japan
Duration: 4 hours (approx.)
Visit Mt Fuji and the nearby sights with this private car service. With the convenience of a private car service, you can enjoy local food for lunch and take ... Read more
Location: Tokyo, Japan
Duration: 10 hours (approx.)