Cherry Blossom Season in Tokyo
By Viator, February 2017
Visitors to Tokyo between March and April are in for a treat: blooming cherry blossom trees decorate nearly every green space in the city, creating a beautiful, pink foreground for an impressive skyline. The fresh spring air mixes with the sight of the pink petals dotting sidewalks, rivers, and lawns in a picture-perfect opening to the new season. There are literally hundreds of places to enjoy the short-lived cherry blossom season in Tokyo, but here are a few of the very best spots.
Shinjuku Gyoen
A large park that stretches between the Tokyo neighborhoods of Shinjuku and Shibuya, the famous Shinjuku Gyoen boasts more than 1,000 cherry trees of over a dozen varieties, mixing traditional English and Japanese landscapes. The cherry trees encompass a large pond, and during cherry blossom season, locals arrive at the park early to stake out the best picnic spots under the trees. This tradition, called hanami, usually involves simple foods and sake. Many of the cherry trees here bloom early and late, allowing for an extended viewing season.
Ueno Park 
The most famous hanami spot in Tokyo, Ueno Park attracts a young crowd looking forward to day drinking under the trees. Over 1,000 cherry trees are set in the park along the main street and around Shinobazu Pond, with most of them usually blooming a few days ahead of those in other areas in the city. This spot is typically very crowded.
Chidorigafuchi
A moat on the northwest side of Tokyo's Imperial Palace, Chidorigafuchi is a favorite viewing spot among locals. The moat is lined with trees that reflect in the water, creating a beautiful and unique experience for visitors walking around the pathways on either side to see the blossoms. The moat is often less crowded than other popular cherry blossom viewing sites, but there are few areas to picnic here.
Sumida and Yoyogi Parks
Any of Tokyo's numerous parks will provide excellent vantage points from which to view cherry blossoms, but at Sumida Park, located in the Asakusa district, the bright blossoms stand in stark contrast to the imposing Tokyo Sky Tree in the background, creating a memorable distinction between the natural setting and urban skyline. In the evening, the cherry blossom trees are lit up; it's a great spot for a scenic evening stroll.


Yoyogi Park attracts artists and trendy young people. Because of this, it has a different atmosphere than other attractive hanami destinations in Tokyo. Expect some 600 cherry blossom trees in the park and many wonderful spots to picnic during the day (the park is closed at night).

Visit three of the most famous gardens in Tokyo where you can be immersed in Cherry Blossoms: Chidorigafuchi, Kitanomaru Park, Sumida Park, Yasukuni Shrine, ... Read more
Location: Tokyo, Japan
Duration: 10 hours (approx.)
It is a join-in cherry blossoms viewing tour in Tokyo with an English-speaking guide. Meet at the Tokyo Station in the morning and visit four famous viewing ... Read more
Location: Tokyo, Japan
Duration: 8 hours (approx.)
On this tour, you will visit the earliest blooming cherry blossoms on the main island of Japan, the Kawazu-zakura Cherry Blossom Festival. You can experience ... Read more
Location: Tokyo, Japan
Duration: 12 hours (approx.)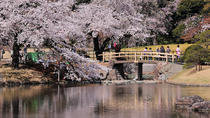 It's that time of the season again. Cherry blossom trees will spring into full bloom, creating an ocean of pink and white. A local driver will take you to the ... Read more
Location: Tokyo, Japan
Duration: 8 hours (approx.)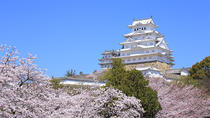 1 Review
Whether you're a seasoned traveler or a first time visitor to Japan, we recommend "Sakura tour 11days" itinerary, our most popular tour. This tour ... Read more
Location: Tokyo, Japan
Duration: 11 days (approx.)
Book this cherry blossom viewing tour by shared bus in Kyoto and visit some of the most popular cherry blossom viewing spots in Kyoto that are not easily ... Read more
Location: Kyoto, Japan
Duration: 8 hours (approx.)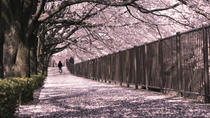 15 Reviews
Enjoy a full-day sightseeing tour of Tokyo's most popular sites for viewing cherry blossoms, including Showa Memorial Park plus either Shinjuku Gyoen or ... Read more
Location: Tokyo, Japan
Duration: 9 hours (approx.)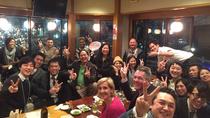 Experience the best of cherry blossom season in Tokyo! This is a limited-time only experience that will introduce you to the true Japanese way of viewing ... Read more
Location: Shibuya, Japan
Duration: 3 hours (approx.)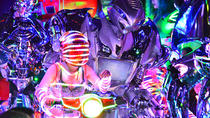 Enjoy this exclusive Robot cabaret show package with a cherry blossom viewing party with local food and drinks. Discover the out-of-this-world excitement of ... Read more
Location: Shinjuku, Japan
Duration: Varies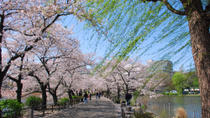 3 Reviews
There's hardly a more iconic place to view the breathtaking Japanese cherry trees (called 'sakura') in bloom than the Asakusa district of Tokyo. See brilliant ... Read more
Location: Tokyo, Japan
Duration: 2 hours (approx.)