Karaoke in Tokyo
By Viator, June 2014
You may have been to a karaoke bar in your home country, but karaoke in Japan is completely different from in the West. Instead of subjecting an entire bar full of strangers to your singing skills, in Tokyo, you sing in a private room with your friends. Typically, you rent a booth by the hour, and a waiter comes to deliver drinks and snacks, just like at a traditional bar. Each booth is outfitted with a TV, speaker system and a massive catalogue of songs in both English and Japanese.

That's about where the consistency ends. Tokyo's karaoke bars range from the basic to the bizarre. You can rent a karaoke hot tub or on a boat. The city has karaoke bars that specialize in anime music and in cosplay, as well as ones geared toward rock 'n' roll enthusiasts or foreign visitors looking for a wider selection of English-language songs.

A few Tokyo karaoke joints, like Smash Hits, do have public stages, but be aware that people here take their karaoke very seriously, and most locals who take the mic will be well-practices and at least moderately talented.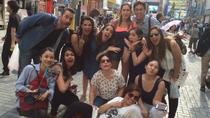 11 Reviews
In Tokyo's Akihabara Electric Town, you can experience the world of 'otaku,' a Japanese subculture that celebrates anime and manga (comics). Pose for a shoot ... Read more
Location: Tokyo, Japan
Duration: 3 hours 30 minutes (approx.)