Tokyo attractions
More things to do in the area
Showing 11-20 of 109 attractions in Tokyo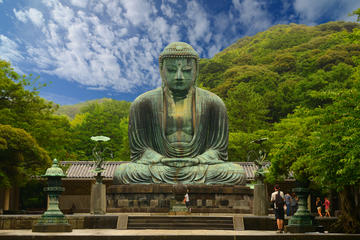 The 47-foot (14-meter) tall bronze Buddha statue of Kotokuin (Great Buddha of Kamakura) is only the second tallest statue of Buddha in Japan though likely the most recognizable. The seated figure is that of Amitabha Buddha, worshipped by Japanese Buddhists as a deity of salvation. The statue was completed in 1252 after the site's previous wooden Buddha and its hall were damaged in a tsunami in 1248. Hundreds of years later, you can still see traces of the original gold leafing. The identity of the artist who cast the statue remains a mystery. The temple of Kotokuin where the Buddha statue resides falls under the Jodo Sect of Buddhism, the most widely practiced branch of the religion in Japan. While the Great Buddha is the real draw, visitors can tour the temple grounds to see the four bronze lotus petals originally cast as part of a pedestal for the Buddha, as well as the cornerstones of the hall that originally sheltered the statue.
More
52 Tours and Activities
---
With its neon lights, towering department stores, and nightclubs, the Ginza Shopping District is a chic, cosmopolitan adventure. You can catch a live Kabuki show, check out the latest Japanese film, or tour the most prestigious and innovative restaurants of Tokyo. And of course, there's shopping! Featuring the most exclusive stores and brands, like Louis Vuitton, Prada, and Chanel, this is window shopping at its finest. Highlights include the Sony Building and Hakuhinkan Toy Park. Another must-see attraction is the Wako Department Store, a Neo-Rennaisance-style building known for its impressive clock tower. The Ginza Shopping District is also a great destination for entertainment. The Kabuki-za Theater presents traditional Kabuki Theatre daily. On the side streets of Ginza, there are clusters of art galleries, and then there's the Ginza Cine Pathos, housing dozens of film theaters, small bars, and food-stalls built in a tunnel underneath Harumi-dori.
More
43 Tours and Activities
---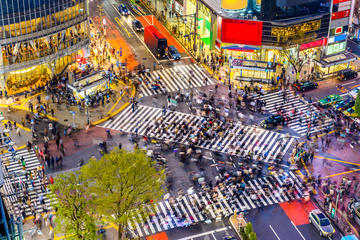 Shibuya is a popular shopping district and entertainment center in Tokyo. It is home to the eccentric fashions of Harajuku, department stores and boutiques, post-modern buildings, and many different museums. Known for its busy streets, flashing lights, and neon advertisements, Shibuya is a definite sight to see. Next to the Shibuya train station is the statue of Hachikō, a legendary dog that waited for his late master, every day in front of the station, for twelve years. The surrounding area is known as Hachikō Square, and is the most popular area for locals to meet. Nearby is the Center Gai, a little street packed with stores, boutiques, department stores, restaurants, and arcades. Close to the Center Gai are a series of strange and fun museums, including the Bunkamura-dori, Tobacco and Salt Museum, and the Tokyo Electric Power Company Electric Energy Museum. There are many clubs and performance spaces in the area as well.
More
127 Tours and Activities
---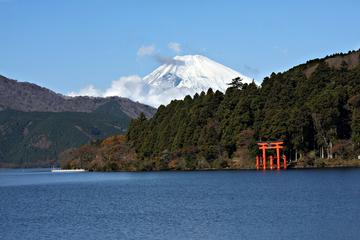 Located on the Island of Honshu, Lake Ashi, also known as Lake Ashinoko, is located inside of Japan's Hakone National Park. With Mt. Fuji as its backdrop, it is a dazzling view on the water. It is considered sacred by the Japanese and has a Shinto shrine at its base. Take a boat ride, relax, and enjoy views of Mt. Komagatake and the lush greenery of the other surrounding mountains, or catch a spectacular view of Lake Ashi on one of the trails in Hakone National Park. One trail even leads from the summer palace of the former Imperial Family, talk about a sight fit for a queen!
More
58 Tours and Activities
---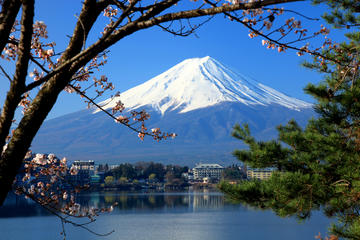 This famous mountain station lies at the halfway point between the Yoshida Trail and the summit of Mount Fuji. Its easy access to public transportation makes it the most popular of the mountain's four 5th stations—particularly during climbing season. Situated some 2,300 meters above sea level, Mt Fuji's 5th Station offers unobstructed views of the Fuji Five Lakes, as well as panoramic looks at Fujiyoshida City, Lake Yamanaka and Komitake Shrine. The station's Yoshida Trail, which can take between five and seven hours to climb, is a favorite among hikers. It may be one of the most crowded summits, but epic sunrises make it worth the congestion.
More
71 Tours and Activities
---
See the so-called Nagano Alps from Japan's highest aerial tramway, the Komogatake Ropeway. The Ropeway opened in 1963 and is a popular way to take in one of the most stunning, scenic views in Japan. The Ropeway runs from the edge of Lake Ashi to the summit of Mount Komagatake, its namesake. The ropeway carries passengers 950 meters (3,116 feet), making it the highest vertical aerial tramway in the country. The ride soars through the clouds to provide views of Japan's highest mountain - Mt. Fuji, as well as the seven Izu Islands, Lake Ashinoko, and expansive coastline. At Mt. Komogatake's summit, passengers off-load to a woodland area with a small shrine and numerous hiking trails to explore. Since the panoramic views are the highlight, it's recommended to only ride the Ropeway on clear days when the mountain summits can be spotted from the ground.
More
4 Tours and Activities
---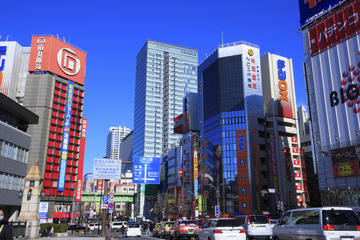 Akihabara, also called Akihabara Electric Town, is the go-to district in Tokyo for electronics, anime and manga products. Hundreds of electronics stores line the neighborhood streets, selling everything from computer parts to home goods and ranging in size from small stalls to mainstream chains. North of Akihabara Station sit stores selling video games, popular manga comic books, card games, costumes and souvenirs. In recent years, Akihabara has become famous for its "otaku" culture, or diehard anime and manga fans. It is a great place to people-watch and see "cosplay," short for costume play, in which fans dress up as their favorite characters in anime and manga. Numerous maid cafes are found in this area as well, where you'll find a dining experience in which the servers dress as maids and other characters.
More
64 Tours and Activities
---
Located in Tokyo's popular Shinjuku ward just north of the world's busiest rail station, you'll find a small alley called Omoide Yokocho. The historic alley, known locally as Memory Lane or Piss Alley depending on who you ask, is in fact one of Tokyo's more authentic and atmospheric dining destinations. Don't let the negative nickname deter you. Today, it's a bit of a misnomer anyway. In 1999, the entire alley was destroyed in a fire. It has since been rebuilt in much the same way and with the same old world Postwar Tokyo atmosphere, but with one notable exception. The alley now has bathrooms. The nickname "Piss Alley" harkens back to the days when no such facilities existed. As you walk down the narrow alley, you'll see tiny bars and restaurants tightly packed together on either side with the occasional tattered red paper lantern lighting the way.
More
29 Tours and Activities
---
The Robot Restaurant in Shinjuku's Kabukicho district (red-light district) may well be unlike anything you've seen before. A sort of sci-fi Japanese cabaret starring giant robots, this show is loud and proud, both visually and audibly, with its flashing lights, multiple mirrors, and huge video screens accompanied by the sounds of taiko drums and pumping techno music. There are four 90-minute shows every night, in which dancers in dazzling costumes perform alongside robots, giant pandas, dinosaurs and more. At one point, neon tanks come out to do battle with samurais and ninjas. It's a surreal place that needs to be seen to be believed! There are several options for attending the show. You can pre-purchase entrance tickets for several different time slots, or you can bundle the entrance ticket with a dinner package.
More
13 Tours and Activities
---
You'll want to grab an (english language) map upon entering this large park that stretches across Shinjuku and Shibuya. There is a lot of ground to cover here. The park is split into gardens of three distinct styles: French formal, English landscape and Japanese traditional. Not surprising the Japanese section is the most interesting and beautiful with waterlily ponds, artfully trimmed bushes and statues. The nearby Taiwan pavilion is an elegant spot for photos. The original gardens date back to 1906, but were destroyed and rebuilt after the war. The diverse and well manicured gardens are great for wandering, taking photos or having an afternoon picnic. The garden has over 1500 cherry trees trees that burst into vivid blooms in late March or early April. It's a favorite spot for blossom viewing and can be very crowded during those times.
More
38 Tours and Activities
---