1 Review
Address:

Queen's Park Savannah, Port of Spain, Trinidad and Tobago

Hours:

Daily 6 a.m. to 6 p.m.
Established in 1818, Trinidad's Royal Botanical Gardens is one of the longest running botanical gardens in the West Indies. The garden is home to around 700 trees, including species from every continent of the world, and about 13 percent of the species are native to the island. Enjoy the beautiful blossoms of orchid trees and African tulip trees, smell the sweet fragrance of magnolias, spot the unusual buds of bootlace and cigar trees, and keep an eye out for myriad tropical birds as you explore the lush greenery. Amongst the scenery of the gardens, you'll also find the President's House and a small cemetery where notable Trinidadians are buried.
Practical Info
The Royal Botanic Gardens are located just north of Queen's Park Savannah, and east of the Emperor Valley Zoo. Visitors can explore the garden for free any day between 6 a.m. and 6 p.m. Bring a blanket and a picnic to enjoy a relaxing lunch in this gorgeous urban green space.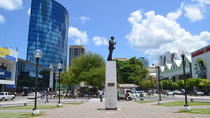 7 Reviews
With a population of approximately 50,000 Port of Spain is the largest city in Trinidad. Your city tour of the capital includes a visit to the bustling ... Read more
Location: Port of Spain, Trinidad
Duration: 3 hours (approx.)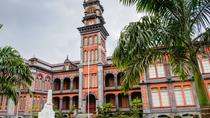 8 Reviews
The bustling capital of Trinidad, Port of Spain, is an exciting city that intricately blends ancient and modern worlds and has a wide selection of shopping, ... Read more
Location: Port of Spain, Trinidad
Duration: 2 hours 30 minutes (approx.)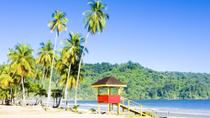 37 Reviews
The main destination of this sightseeing tour is Maracas Beach, the most popular beach in northern Trinidad. After a quick exploration of Port of Spain, ... Read more
Location: Port of Spain, Trinidad
Duration: 3 hours 30 minutes (approx.)