Tromso Fjords Tours
Thanks to its spectacular location among a series of islands and skerries laced with waterways and scalloped inlets, and to its backdrop of snow-clad peaks, Tromsø is the epicenter of day trips out into fjords bordering the Norwegian Sea. These long, narrow sea inlets are characterized by steep, mountainous slopes carved out by glaciation during the last Ice Age. Within easy reach of Grøtfjord, Erdsfjord, Balsfjord, Lyngsfjord and Kattfjord on the neighboring island of Kvaløya, the city is connected to this spectacular seascape with a network of ferries, buses and bridges.
From half-day sightseeing trips to the sharp peaks of Balsfjord or into the pristine waters of Erdsfjord, surrounded by steep mountains; to fishing for cod, salmon and halibut in the deep fjord waters; and crewing yachts into the calm, sheltered waters, there's a choice of tours from Tromsø. Kayaking and canoeing are popular summer sports, with the white sand beaches of Grøtfjord a popular day trip from Tromsø. Come the heady days of June through August, the land of the midnight sun features water that is (just) warm enough for swimming. The winter months (between late November and mid-January) see whale-watching, as well as night-time trips out into the fjords to catch the shimmering pinks, yellows and greens of the Northern Lights as they streak across the sky – always elusive, these are best seen between December and February.
Practical Info
Fjord trips are available daily from Tromsø, dependent on weather.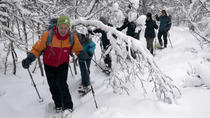 6 Reviews
This trip is the perfect way to start the day! Stride through Tromsø's winter wonderland on a guided 2-hours snowshoe trek. Venture out of the city to ... Read more
Location: Tromsø, Norway
Duration: 2 hours (approx.)