Black Magic of Turin
By Viator, August 2013
Turin isn't often on the tourist radar, but those who visit often do so to see the famous Shroud of Turin. Believers say this is the cloth which was wrapped around the crucified body of Jesus Christ, and which now bears the imprint of a crucified man. Whether you believe or not, Turin has plenty of supposedly "magical" sights to make your mind wander.

There are said to be two "magic triangles" in the world — one for black magic and one for white magic — that connect cities around the globe. Turin is said to be a point in both triangles, making it a particularly strong magical "vortex" for both good and evil. Skeptics say it's nonsense, of course, but there's a fascinating "Magic Turin" tour that may leave you with more questions than answers.

The "black magic triangle" supposedly includes London and San Francisco in addition to Turin, and there are several sights on a "Magic Turin" tour that purport to point out the city's dark side. In Piazza Statuto there's a statue of what some locals think is Satan, but the piazza's bloody history is what really makes your head spin. A Roman-era necropolis once lay beneath the square, and it was also the site of many public executions. And on a street not far from Piazza Statuto, there used to be a building where the doomsday prophesier Nostradamus once lived.

A magic tour in Turin gives you a chance to learn about both the black magic and white magic sides of the city, so it's not all doom and gloom. It is said that most of the white magic in Turin is concentrated around Piazza Castello, not far from the Duomo, which is where the Shroud of Turin is kept. And regardless of whether you wind up believing in Turin's status as a magical vortex, you're likely to be charmed by a beautiful city with many interesting stories to tell.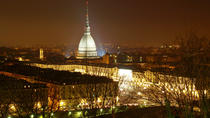 10 Reviews
Delve into the darker side of Turin and explore the city's links to magic and the occult. Whether you believe in magic or not, the Black and White Magic ... Read more
Location: Turin, Italy
Duration: 2 hours 30 minutes (approx.)