More commonly known as "Provo," the island of Providenciales is one of the main islands in the entire Turks and Caicos commonwealth. Most international flights arrive and depart from Provo, and this small island is a great introduction to the beauty of this amazing Caribbean island. With crystal clear waters and white sand beaches that Conde Nast routinely votes as some of the best in the world, it's hard to go wrong in Provo.

While this is the most developed island in the Turks and Caicos, you'll not be found wanting for peace, beauty, and seclusion. Head to the north shore of the island near Grace Bay for some of the island's best white sand beaches and abundant coral reefs. It is also here, in Grace Bay, that you'll find most of the tourism infrastructure that you seek. Staying on Provo? Your hotel is probably located in this stretch of white sand.

Divers in Provo enjoy the ample opportunity to dive ship wrecks or explore the underwater reef that bursts with life. Explorers enjoy visiting the Conch Farm to see these huge and beautiful sea snails, while others head to Princess Alexandra Marine Park to play with bottlenose dolphins. There's much to do and see on Providenciales, but what most people wind up doing is what the islands are known best for – not much of anything but laying in the sun.
Practical Info
Providenciales is in the western group of Turks & Caicos Islands. It has the territory's largest population and is third-largest in area. Ferries link the island to its neighbor, North Caicos, and international flights land at Providenciales' airport.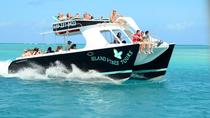 Enjoy Turks and Caicos' beautiful waters on this private tour by luxury cruiser. Great for a day out on the water with your family or friends, this ... Read more
Location: Providenciales, Turks and Caicos
Duration: 4 or 8 hours