The idyllic Turks and Caicos islands harbor a vast array of underwater wonders and some of the best diving and snorkeling sites in the Caribbean. Whether you're setting sail on a snorkeling cruise or jumping in as a seasoned diver, here are the top spots that you won't want to miss.
The Wall
At the western end of Grand Turk and just a 10-minute boat ride offshore, the Wall is where the continental shelf makes a steep plunge into the deeper parts of the ocean. Dramatic arches, coral gardens, and abundant sea life make this a must for divers and snorkelers alike. Night diving is also popular here, as the bioluminescence makes for incredible, otherworldly viewing.
Chief Ministers
Located just off Governor's Beach, Chief Ministers is renowned for its abundant sea life. Snorkelers and divers can spot schools of groupers, manta rays, eagle rays, and even migratory whales and reef sharks, while exploring the underwater landscape of coral formations, sea cucumbers, and sponges.
Gibbs Cay
The shallow reef of Gibbs Cay offers an extraordinary opportunity to swim and snorkel alongside southern stingrays, accompanied by an expert guide. Combine it with a catamaran cruise around Gibbs Cay Island, part of the Turks and Caicos' Land and Sea National Park.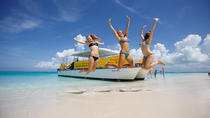 50 Reviews
The half day snorkel and conch cruise is the most popular tour in the Turks & Caicos Islands. The tour has three main elements: snorkeling, conch hunting, ... Read more
Location: Grace Bay, Turks and Caicos Islands
Duration: 4 hours (approx.)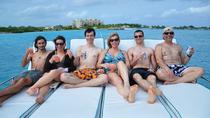 35 Reviews
Spend a relaxing morning or afternoon on the turquoise waters of Providenciales on this half-day snorkeling cruise from Grace Bay Beach. On board a comfortable ... Read more
Location: Providenciales, Turks and Caicos
Duration: 4 hours (approx.)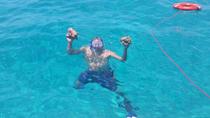 13 Reviews
Board a boat at Grand Turk beach with friends or family for a small group snorkeling tour. This 4-stop shore excursion begins with snorkeling the Coral ... Read more
Location: Grand Turk, Turks and Caicos
Duration: 3.5 to 4.0 hrs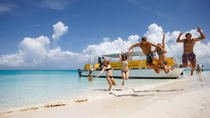 11 Reviews
Prepare for a truly authentic Turks & Caicos experience! You will snorkel two majestic coral reefs, dive for sand dollars, feast on delicious local fare, ... Read more
Location: Grace Bay, Turks and Caicos Islands
Duration: 8 hours (approx.)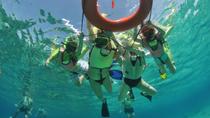 45 Reviews
Snorkel in the world's third largest reef within a protected marine park of Grand Turk! Your boat captain takes you to a shallow reef to practice before ... Read more
Location: Grand Turk, Turks and Caicos
Duration: 2 hours (approx.)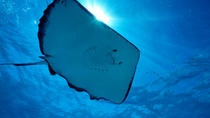 64 Reviews
Visit Gibbs Cay and snorkel among the southern stingrays that inhabit the protected waters of this pristine island! This 2-hour aquatic adventure in Grand Turk ... Read more
Location: Grand Turk, Turks and Caicos
Duration: 2 hours (approx.)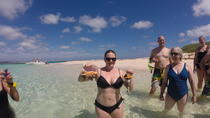 10 Reviews
Snorkel while in Grand Turk! On this tour you will visit some of the best snorkeling spots around Grand Turk. Make a stop at Gibbs Cay and get an up close look ... Read more
Location: Cockburn Town, Turks and Caicos Islands
Duration: 3 hours (approx.)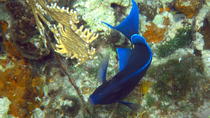 7 Reviews
The first stop on this 2 stop snorkeling tour is a shallow reef called the Coral Gardens Reef. The second stop is at the famous Grand Turk Wall in the marine ... Read more
Location: Grand Turk, Turks and Caicos
Duration: 1.5 to 2.0 hrs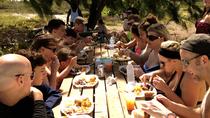 5 Reviews
Take a break from your beach resort for a full-day catamaran tour around Providenciales' northern shores. Enjoy water activities like snorkeling in Grace Bay, ... Read more
Location: Providenciales, Turks and Caicos
Duration: 8 hours (approx.)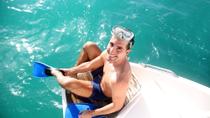 Spend a fabulous morning or full day on the picture-perfect turquoise waters of Turks and Caicos on this private beach and snorkeling cruise, great for the ... Read more
Location: Providenciales, Turks and Caicos Islands
Duration: 4 hours (approx.)