Thanksgiving Celebrations
By Viator, September 2015
Thanksgiving is an important holiday for Americans, a day of family, football and feasting on traditional dishes like turkey, cranberry and stuffing. It's also when people give thanks for their blessings, with almost every city around the country celebrating in some way. For example, parades are popular this time, with large-scale processions taking place in Chicago, Philadelphia and Detroit.

In New York City you can attend the annual Macy's Day Parade -- which has been happening since 1924 and now attracts about 3 million visitors -- featuring 2.5 miles (4 kilometers) of dancing, singing, celebrities, marching bands and Broadway acts. The main attraction is the impressive balloons, which come in three classes: Novelty balloons, full-size balloons of pop culture icons, and Blue Sky Gallery balloons, which turn works of art into giant floating zeppelins.

Another great Thanksgiving destination is Plymouth, Massachusetts, the birthplace of the holiday. Going on the weekend before Thanksgiving each year, there are three days of re-enactments, traditional food, educational activities, concerts that pay homage to the military, a parade and much more. At the Plimouth Plantation Living Museum, costumed actors bring to life the story of Thanksgiving and colonial America, and you can tour a replica English colony, Wampanoag home site and Mayflower II. Around the holiday enjoy a 1621-inspired Thanksgiving feast, complete with Pilgrim and Native American interpreters.

Sports fans should head to Dallas, Texas, on Thanksgiving, as the Dallas Cowboys have played a game every Thanksgiving Day since 1966. Football isn't Dallas' only Thanksgiving offerings, however, as there is also Thanks-Giving Square. Here there are a number of ways to give thanks, from the Wall of Praise -- which features text from Psalms 100 and a beautiful mosaic inspired by Norman Rockwell's "The Golden Rule" -- to the Chapel of Thanksgiving to the Hall of Thanksgiving and Exhibit Area, where you can learn more about the tradition of Thanksgiving. And don't forget the annual Turkey Trot, taking place in downtown Dallas on Thanksgiving morning.

As the highlight of Thanksgiving is eating, a dinner cruise adds some ambiance to the celebration. In the Big Apple, a New York Thanksgiving Dinner Cruise can be the perfect way to spend the evening. Guests sail along the Hudson River, dancing to a live DJ, sipping wine and snapping shots of the Manhattan skyline. The highlight of the excursion is a sumptuous farm-to-fork four-course meal with optional open bar. In San Francisco, diners can enjoy a San Francisco Thanksgiving Dinner Cruise, featuring live band music; iconic views of the Coit Tower, Golden Gate Bridge, Alcatraz, and Transamerica Building; and your choice of buffet or seated dinner. Tender turkey breast, butternut squash ravioli, prime rib, and pumpkin and pecan pie are just a few of the delicious options one can expect aboard the California Hornblower.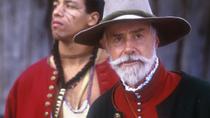 4 Reviews
Take a journey back in time to experience the lives of the Pilgrims and Wampanoag tribe in colonial America. Located in Plymouth, Massachusetts, near Boston, ... Read more
Location: Boston, Massachusetts
Duration: Varies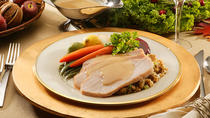 1 Review
Experience spectacular views of San Francisco as you enjoy an exceptionally prepared Thanksgiving meal. Watch breathtaking bay icons like Alcatraz and the ... Read more
Location: San Francisco, California
Duration: 3 hours (approx.)