No reviews, be the first!
Address:

Fort Portal-Mpondwe Road, Uganda

Admission:

A day pass costs $40 per person
Queen Elizabeth National Park Tours
Since 1952 this incredible park has been attracting host country nationals and foreign travelers alike, thanks to diverse wildlife, stunning landscapes and volcanic craters. Widely-recognized for having the largest concentration of hippos in the world, Queen Elizabeth National Park is also home to chimpanzees and a variety of antelope species. Visitors who venture to the Ishasha River Camp will find dozens of elephants living in the surrounding grasslands and a lucky few may even spot the King of the Jungle relaxing in the branches of African shade trees. In addition to game drives, visitors will find navigating the landscapes of this vast park truly memorable, thanks to diverse terrain, which includes winding rivers, crater lakes, volcanic peaks, thick forests and vast savannahs.
Practical Info
The park is located between Lake Edward and Lake George. A day pass costs $40 per person and Chimpanzee tracking in Kyamura Gorge is about $50 per person. Most travelers hire their own cars, since well-marked paths are usually easy to maneuver even in 2-wheel-drive vehicles, but tour outfits offer options for those who want to avoid going it on their own.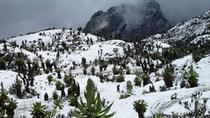 The Rwenzoris, or the "Mountains of the Moon", have a celebrated beauty. Shrouded almost perpetually in mist, they have a seducing, eerie quality that led to ... Read more
Location: Kampala, Uganda
Duration: Flexible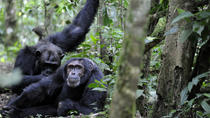 This Classic Primate tour combines the safari highlights of Uganda such as the exciting chimpanzee tracking in the African rain forests of Kibale National ... Read more
Location: Kampala, Uganda
Duration: 10 days (approx.)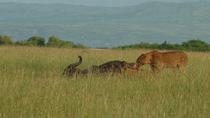 This is a great Ugandan adventure safari that explores the best areas with a lot of sight see during the entire safari. You will visit Entebbe via Kampala, ... Read more
Location: Kampala, Uganda
Duration: 7 days (approx.)