Beagle Channel Tours
The narrow Beagle Channel, separating Argentina's island chain of Tierra del Fuego to the north from remote Chilean islands to the south, serves as a waterway for the world's southernmost city, Ushuaia. The channel is one of the most important bodies of water on the southern tip of South America, and most travelers experience this part of the world on multi-day cruises from Ushuaia to Punta Arenas in Chile.
Journeying through the water, guests enjoy prime viewing of the snow-capped peaks and dramatic landscapes for which the Tierra del Fuego region is so very well known. Although the channel is often home to storms and uncertain waters, it is also known as glacier alley for its many opportunities to spot these massive ice flows from a boat. A trip through the Beagle Channel is truly is unlike anything else on the planet.
Practical Info
The Beagle Channel runs for 130 miles (240 km (130 miles) from Isla Nueva in the east to the Darwin Sound in the west. At its widest point, the Channel measures three miles (5 km) across. Argentina shares the eastern section with Chile, while the western section is totally within Chile's borders.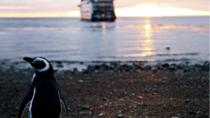 Starting in January 2018, explore Patagonia on an adventurous five-day, four-night journeys between Ushuaia (Argentina) to Punta Arenas (Chile) through some of ... Read more
Location: Punta Arenas, Chile
Duration: 5 days (approx.)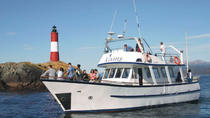 2 Reviews
This is a 4-hour sailing cruise including the highlights in the Beagle Channel, such as the Lighthouse Les Eclaireurs, the Island of Sea Wolves and Birdes ... Read more
Location: Ushuaia, Argentina
Duration: 4 hours (approx.)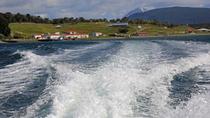 Navigate on Beagle Chanel and discover Ushuaia's surroundings from a unique point a view. Pass by Les Eclaireurs Lighthouse, Ushuaia's emblem, small islands ... Read more
Location: Ushuaia, Argentina
Duration: 6 hours (approx.)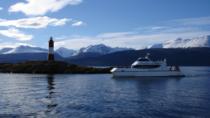 10 Reviews
In 1833, Charles Darwin set sail along the Beagle Channel. You can follow his course on a 2.5-hour catamaran cruise from Ushuaia. You'll capture sights of ... Read more
Location: Ushuaia, Argentina
Duration: 3 hours (approx.)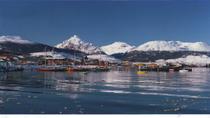 6 Reviews
Spend three days exploring Ushuaia and its surrounding natural wonders on this all-inclusive multi-day adventure tour. Enjoy the majestic landscape that ... Read more
Location: Ushuaia, Argentina
Duration: 3 days (approx.)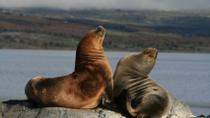 6 Reviews
Get out on the water on this catamaran tour from Ushuaia through the Beagle Channel. Experience the natural beauty of the southernmost part of South America as ... Read more
Location: Ushuaia, Argentina
Duration: 3 hours (approx.)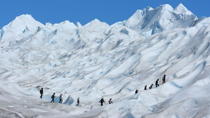 3 Reviews
Travel to the end of the world! Join us in this adventure and get to know the most southern capital city in the world, Ushuaia. Be astonished by its landscape ... Read more
Location: Ushuaia, Argentina
Duration: 5 days (approx.)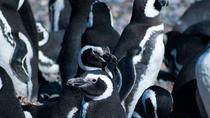 4 Reviews
Visit one of the biggest penguin colonies in the world and learn more about this incredibly social animal during a 4 hour tour. Take a boat trip to the ... Read more
Location: Ushuaia, Argentina
Duration: 4 hours (approx.)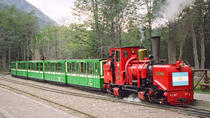 2 Reviews
This tour includes two separate activities. The first activity at Tierra del Feugo National Park begins at 8:30am and lasts five hours until 1:30pm. The ... Read more
Location: Ushuaia, Argentina
Duration: 8 hours (approx.)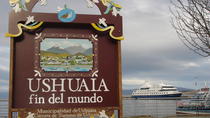 1 Review
Enjoy a full-day guided tour that will take you from Ushuaia city to the impressive landscapes of the famous Tierra del Fuego National Park and to the Beagle ... Read more
Location: Ushuaia, Argentina
Duration: 1 day (approx.)