31 Reviews
Address:

St John's Co-Cathedral, St John Street, Valletta, Malta VLT 1156

Hours:

Open daily from 9:30am to 4:30pm (only until 12:30pm on Saturdays); closed on Sundays except for services

Admission:

€6.00 (USD$8) for adults, €4.60 (USD$6) for seniors, €3.50 (USD$4.50 for students)
St John's Co-Cathedral Tours
Behind the misleadingly plain Baroque façade of St John's Co-Cathedral hides one of Europe's most spectacular churches, built in thanks by the Knights of St John following their successful routing of the Ottoman Turks in 1565's Great Siege of Malta. Completed in 1577, most of the design is by Gerolamo Cassar, the Maltese architect who also built the Grand Master's Palace. The entire floor in the nave of Valletta's premier cathedral is composed of around 400 marble tombstones dedicated to prominent Knights of St John. These multicolored and highly decorative memorials pay tribute to the bravery of the order, featuring coats of arms, angels and skulls.
The heavily ornamental cathedral ceiling is covered in scenes from the life of John the Baptist, patron saint of the knights, as well as other Biblical scenes executed chiefly by Calabrian artist Mattia Preti under the patronage of the order's early 17th-century grandmaster Raphael Cotoner. Preti took six years over his decorative frescoes, finishing them in 1667; he is buried in the cathedral. 
The cathedral also houses two peerless works by the rabble-rouser artist Caravaggio: The Beheading of St John the Baptist is found in the Oratory and is a brutal masterpiece marking a landmark in the development of European art. Caravaggio's second work for the cathedral, St Jerome Writing, hangs in the Chapel of Italy.
In the cathedral's museum are vestments worn by the Knights of St John, fine Gobelin tapestries hang in the nave, and a monumental statue of Christ by Bolognese sculptor Alessandro Algardi is found close to the entrance. The building was badly damaged in World War II but has now been perfectly restored.
Practical Info
St John's Co-Cathedral is a 5-minute walk from Valletta bus station and is a 15-minute walk from the cruise liner terminal. It is in a pedestrianized area of the city and there is designated parking outside the City Gate for drivers. The cathedral is open Monday through Saturday and is closed on Sundays except for services. There are multilingual audio guides available.
Dress respectfully to enter the cathedral; shorts and strapless shirts are not allowed. Shawls and wraps are provided at the entrance. No high-heeled shoes are allowed on the marble tombstones. Lines can be long as staggered entrance helps prevent damage to the cathedrals' interior.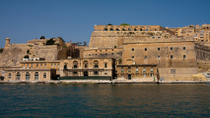 5 Reviews
While you're in port in Malta, get to know its two capitals – Mdina, the ancient one, and Valletta, the current one – on this shore excursion that will ... Read more
Location: Valletta, Malta
Duration: 4 hours (approx.)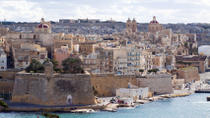 8 Reviews
If you're interested in the fascinating and long history of Malta, this is the perfect shore excursion while you're in port. On this private tour from ... Read more
Location: Valletta, Malta
Duration: 7 hours 30 minutes (approx.)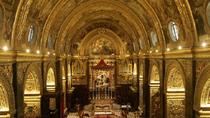 3 Reviews
See the best of Valletta on this immersive, 3.5-hour walking tour. Explore Malta's historical capital with a local guide, and visit top attractions such as St ... Read more
Location: Valletta, Malta
Duration: 4 hours (approx.)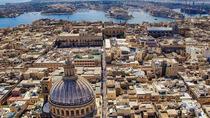 6 Reviews
During this tour you visit Mosta, Ta'Qali Crafts Village, Mdina and Valletta. The tour includes Mosta Church Entrance
Location: Valletta, Malta
Duration: 8 hours (approx.)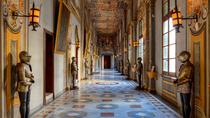 23 Reviews
Discover Malta's capital city on this immersive walking tour that takes you to Valletta's main sights. Stroll past the historic Grandmaster's Palace, admire ... Read more
Location: Valletta, Malta
Duration: 3 hours 30 minutes (approx.)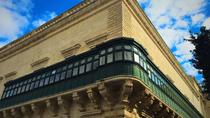 9 Reviews
On this tour you will visit the main highlights of Valletta, while also visiting an often ignored but equally fascinating part of the city. The tour starts at ... Read more
Location: Valletta, Malta
Duration: 3 hours (approx.)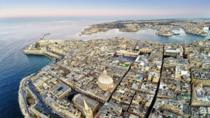 2 Reviews
During this tour you walk along the streets of Valletta. Included in the price you also have the St. John's Co-Cathedral ticket and the Malta Experience Show ... Read more
Location: Valletta, Malta
Duration: 5 hours (approx.)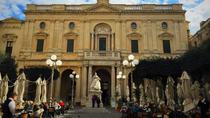 6 Reviews
Malta is a small island with a lot to see, and unfortunately one does not always have too much time to spend exploring its many treasures. This is where the ... Read more
Location: Valletta, Malta
Duration: Flexible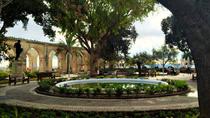 13 Reviews
On this tour you will visit the main highlights of Valletta, while also visiting an often ignored but equally fascinating part of the city. The tour starts at ... Read more
Location: Valletta, Malta
Duration: 3 hours (approx.)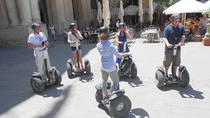 10 Reviews
Discover Valletta on a 2-hour Segway tour and get a totally different view of Malta's capital city. Hop on a Segway and absorb the capital city first hand with ... Read more
Location: Valletta, Malta
Duration: 2 hours (approx.)