522 Reviews
Address:

San Marco, 1, Venice 31024, Italy

Hours:

Summer 9am-7pm (until 6pm in winter)

Admission:

€ 13 for a Piazza San Marco museum pass
Doge's Palace (Palazzo Ducale)
Until 1797, the Doges ruled the Venetian Empire and the Palazzo Ducale was where they ruled from. A Venetian Gothic fantasy palace, it was one of the first things those arriving in Venice saw as their ships sailed through the lagoon and landed at St Mark's Square. The Doges lived here, where the government offices were also housed and justice was meted out. The Golden Book, listing all of Venice's important families and upholding the fact that only those listed in the book could be made Doge, was kept in the palace as well. It was an extremely political process ruling Venice, and residents were able to accuse others of wrongdoing by anonymously slipping a note into the Mouth of Truth.
Inside the palace is wonderful art (paintings by Titian, Tintoretto and Veronese), majestic staircases, the Doge's apartments and the prison cells, while outside sits the Bridge of Sighs and beautiful differing columns along the piazzetta. Death sentences were declared between the ninth and 10th columns, while executions were carried out between the freestanding ones in the piazzetta next to the lagoon; even today Venetians won't walk between them. A final chance at life was offered if the accused were able to walk around the edge of the third column on the seaward side of the palace. Travelers are welcome to try, although not one person ever succeeded.
Practical Info
The Doge's Palace (Palazzo Ducale) is located next to St Mark's Church in St Mark's Square. Vaporetto S. Marco/Vallaresso.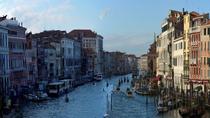 Venice is like a fairytale little world to visit on foot or by boat. Enjoy a unique and unforgettable experience walking through the City of Venice!
Location: Venice, Italy
Duration: 2 hours (approx.)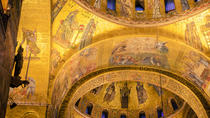 51 Reviews
Explore St Mark's Basilica without the crowds on an after-hours tour, and enjoy an optional visit to Doge's Palace, if you wish. Inside St Mark's Basilica, ... Read more
Location: Venice, Italy
Duration: 1.5 - 3.5 hours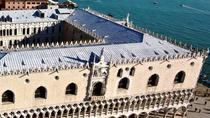 16 Reviews
Admire Venice from the land and water on a fascinating combo tour that includes a guided visit of the Doge's Palace, an unusual walk through the lesser-known ... Read more
Location: Venice, Italy
Duration: 3 hours 30 minutes (approx.)
Combined guided tour of the Doges Palace and Saint Marks Basilica. This combined walking tour lets you explore and hear stories of the Venetian Doge and his ... Read more
Location: Venice, Italy
Duration: 2 hours (approx.)
2 Reviews
The splendour and the spectacle of the Doges, the curious and shrewd leaders of Venice for more than a millennium. Led by one of Venice's greatest ... Read more
Location: Venice, Italy
Duration: 75 minutes (approx.)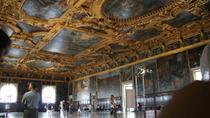 3 Reviews
Take part in this 3-hour tour that combines a fascinating walk through the historic centre of Venice and a guided visit to the Doge's Palace. You will pass ... Read more
Location: Venice, Italy
Duration: 3 hours 15 minutes (approx.)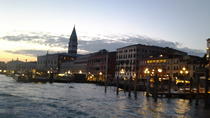 1 Review
Private tour discovering a unique Venice with a qualified guide that will let you discover the city of Marco Polo and his treasures. By walk, gondola and ... Read more
Location: Venice, Italy
Duration: 6 hours (approx.)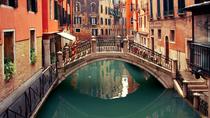 This exclusive private tour is the perfect tour for families with kids, who want a complete overview of Venice with a wonderful child-friendly private guide. ... Read more
Location: Venice, Italy
Duration: 5 hours (approx.)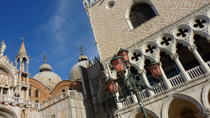 109 Reviews
Take advantage of the skip-the-line service on this 2-hour tour that gives you the exclusive opportunity to go back in time and discover two of the most ... Read more
Location: Venice, Italy
Duration: 2 hours 15 minutes (approx.)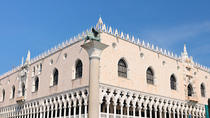 566 Reviews
See the best of Doge's Palace in Venice on a 1.25-hour skip-the-line tour! With a priority-access ticket, you won't waste time standing in line. Walk right ... Read more
Location: Venice, Italy
Duration: 85 minutes (approx.)