Ponte dell'Accademia Tours
The Ponte dell'Accademia spans the southern end of Venice's beautiful Grand Canal between the Galleria dell'Accademia in Dorsoduro and Campo San Vidal in San Marco. As one of only four bridges crossing the canal, it has had several incarnations since the original steel structure was constructed in 1854. This was replaced by a wooden bridge designed by Eugenio Miozzi in 1933, which in its turn was deemed unsafe and removed. Today's version is identical in construction to Miozzi's, crafted out of wood in a single arched span but with additional steel supports, and it was erected in 1984. 
The bridge is the perfect spot to catch views of the church of Santa Maria Salute and a good vantage point from which to observe the festivities at Venice's annual Lenten carnival. Latterly the craze for lovers placing locks on bridges in European cities has taken hold here; the Venetian authorities fear for the structure of the bridge and are trying to clamp down on the phenomenon.
Practical Info
Dorsoduro, Venice. The Accademia vaporetto and ferry stations are next to the bridge on the Dorsoduro side.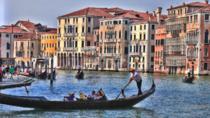 1 Review
You will be captivated  by the beauty of Venice, made up of 117 small islands connected to each other by 400 bridges.  Let yourself be seduced by one of the ... Read more
Location: Rome, Italy
Duration: 2 days (approx.)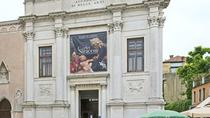 This small group, 2 hour guided visit to the Accademia Gallery will allow you to discover some unique locations within Venice that are relatively unknown, ... Read more
Location: Venice, Italy
Duration: 2 hours (approx.)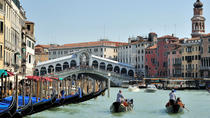 The exclusivity of a Traditional Private Tour for a any occasion! Our Private Tour is an unforgettable experience for couple and groups of any size, combining ... Read more
Location: Venice, Italy
Duration: 30 minutes (approx.)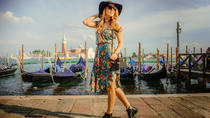 Get your portrait in Venice. Feel like a model and enjoy an exclusive experience with a professional photographer. This tour is for 1 person only.
Location: Venice, Italy
Duration: 2 hours (approx.)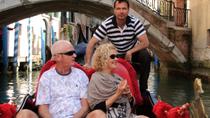 73 Reviews
Float through Venice by private gondola boat on a 1-hour tour, and learn all about the history of the quintessential Venetian gondolas, too! As a gondolier ... Read more
Location: Venice, Italy
Duration: 60 minutes (approx.)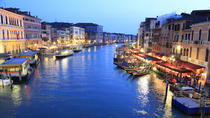 431 Reviews
Explore romantic Venice by daytime or night, and see a selection of the city's gems! During a relaxing walking tour, pass top Venice attractions such as Rialto ... Read more
Location: Venice, Italy
Duration: 2 hours (approx.)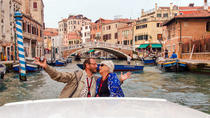 5 Reviews
Speed through Venice by luxury motorboat to discover the sights of the Grand Canal and the Basilica of San Giorgio Maggiore. As a knowledgeable guide drives, ... Read more
Location: Venice, Italy
Duration: 2 hours (approx.)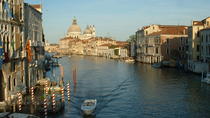 5 Reviews
Journey down the canal on this 1 hour small group tour in a motor-boat with multilingual hostess along the Grand Canal, "the most beautiful street in the ... Read more
Location: Venice, Italy
Duration: 60 minutes (approx.)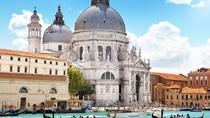 Dorsoduro is one of the six districts of Venice, whose name translates as "hard bridge" from Italian, due to the area's relatively high terrain.  It's a ... Read more
Location: Venice, Italy
Duration: 3 hours (approx.)