The Veneto region in northeastern Italy contains one of the country's most popular tourist destinations - the city of Venice - but there's more to see and do in the region than simply swoon over the canal city. Plan to spend a little more time exploring the Veneto region, enjoying its beautiful scenery and learning about its complex history.

The Republic of Venice, which included what is now the Veneto region, was an incredibly powerful and wealthy independent state for more than 1,000 years. Today, that means the Veneto is rich in art, architecture, and other cultural treasures, as well as ancient monuments and structures. There are Roman-era buildings, churches built with icons plundered from conquered nations, and lavish villas once occupied by mighty Venetian families.

There's a remarkable geographic diversity in the Veneto region, too, from the lagoons of Venice to the mountains of the Dolomites, with valleys, lakes, and forests in between. There are charming hill towns in the Veneto region that can be visited on a day trip from Venice or Verona. There are vineyards in the region that produce famous wines such as Valpolicella, Prosecco, Moscato, Soave, and Amarone, and this is the region that gave the world tiramisu.

The big cities of the Veneto are easily visited by train, but to really get to know the region you're better off renting a car or booking a tour that includes transportation. Venice is the obvious choice in the region, followed closely by the gorgeous city of Verona. But don't overlook Asolo (a quintessential Italian hill town), Treviso, Padua, Cortina d'Ampezzo, and Vicenza. There are 24 Palladian villas that, together, are a UNESCO World Heritage site. Part of Lake Garda is in the Veneto region, too, including the big Italian amusement park, Gardaland.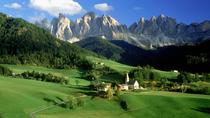 623 Reviews
Escape the city and spend a day in the Dolomite Mountains on a full-day trip from Venice! With an expert driver-guide to tell you all about the region, you'll ... Read more
Location: Venice, Italy
Duration: 8 hours 30 minutes (approx.)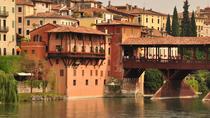 199 Reviews
Enjoy a relaxing day in the beautiful hills of the Veneto, visiting the towns of Asolo and Bassano del Grappa, and a prosecco vineyard. You'll stroll around ... Read more
Location: Venice, Italy
Duration: 9 hours 30 minutes (approx.)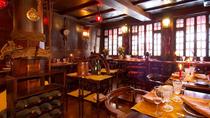 17 Reviews
Wine and dine on a 4-course meal in the heart of Venice, and learn about regional wine from a professional sommelier! Take your seat at a prestigious ... Read more
Location: Venice, Italy
Duration: 2 hours 30 minutes (approx.)