One of Venice's most delightful culinary traditions is "cicchetti," bite–sized morsels eaten at small bars with a glass of local wine. Learn to find the best cicchetti bars in the city, and find out what and how to order, below.
Things to Know
The word "cicchetti" is pronounced "chi–KEH–tee," and a bar that serves these appetizer-sized snacks is called a "bacaro," which is pronounced "BA–ka–ro."

Cicchetti is essentially the Venetian version of tapas (although don't say that to the Venetians).

Venetians often stop at bacari (the plural form of bacaro) for a quick bite with friends before going home to dinner, but you can visit a few bacari in a row to make a fun and interesting meal.

Because cicchetti are so small, patrons usually order a small glass of wine and a few cicchetti and eat them standing at the bar with friends. You're welcome to sit at a table, however, if the bacaro has tables. There's no rush, so take your time, order seconds of whatever tastes best, and then amble on to find the next cicchetti bar. Continue doing this until you've had a full meal.

Look for cicchetti featuring seafood from the lagoon, as well as cheese, meat, and vegetables from the Veneto region.

How to Go
Finding the best bacari in Venice and knowing what to order can be confusing without a tour guide, so there are a number of Venice food tours that focus on the city's best cicchetti. With a guided tour you'll get Venetian foodie tips from a local expert, a pleasant stroll around a walkable city, suggestions on the best things to order at each bar, and insights into the unique city of Venice. Some combine visits to cicchetti bars with a tour of the Rialto Market, which gives you a chance to see what's fresh and in season—and therefore what will be turned into cicchetti in good bacari. Starting your Venice trip with one of these tours enables you to venture out to bacari on your own later on.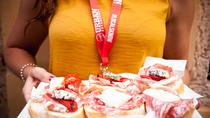 619 Reviews
Discover the locals' favorite 'cicchetti' bars in Venice, enjoying the city's famous tapas-style dishes with an expert guide! The exciting 2.5-hour food tour ... Read more
Location: Venice, Italy
Duration: 2 hours 30 minutes (approx.)
40 Reviews
Taste delicious specialties and visit the highlights of the city on waters. This 2.5 hour small group tour is led by a local top-rated guide. Explore Rialto ... Read more
Location: Venice, Italy
Duration: 2 hours 30 minutes (approx.)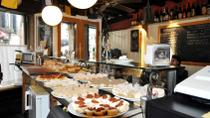 141 Reviews
Make like a Venetian and enjoy an evening stroll around the 'bàcari' (wine bars) of Venice's Jewish Ghetto! While exploring the historical quarter with a ... Read more
Location: Venice, Italy
Duration: 2 hours 30 minutes (approx.)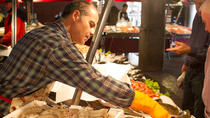 10 Reviews
Step away from the tourist trail to discover Venice's culinary history from the days when the city was a major spice trade port through to the present day. As ... Read more
Location: Venice, Italy
Duration: 2 hours 30 minutes (approx.)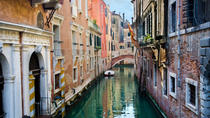 235 Reviews
Discover the side of Venice that many visitors don't see on a leisurely paced, 3-hour walking tour, packed with historical anecdotes, quirky stories and ... Read more
Location: Venice, Italy
Duration: 2 hours (approx.)